Sodium chloride solution for infusion (0.9%)

Drug groups

Infusions Sodium chloride solution for infusion is a solution of sodium chloride in water for injections. It serves as a substitute for water, sodium and chloride and can be used as a fluid replacement, for hyponatremia, hypochloremia and as a carrier solution for active pharmaceutical ingredients. Due to various deficits, however, the solution is rarely used as a volume replacement today.
synonymous: NaCl infusion solution, Natrii chloridi solutio infundibilisPH
Products
Infusion solutions with sodium chloride (0.9%) are available from various manufacturers in Switzerland (e.g. Fresenius, Sintetica, Braun).
Manufacturing
The clear, colorless liquid contains 9 g sodium chloride per liter of water.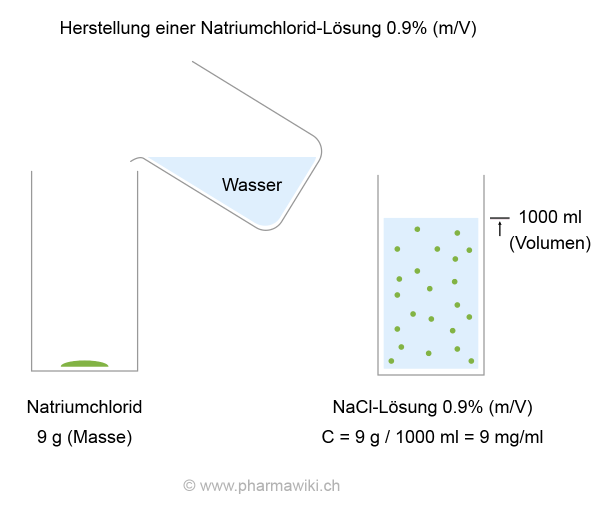 Production of a sodium chloride solution 0.9%, click to enlarge. Illustration © PharmaWiki
Structure and properties
Sodium chloride (NaCl, Mr = 58.44 g / mol) is a white, crystalline powder, colorless crystals or white pearls. It has a salty taste (table salt) and is easily soluble in water.
Effects
Sodium Chloride Infusion Solutions (ATC B05BB01

) serve as a substitute for water, sodium and chloride. Today they are rarely used as a volume replacement in the event of a loss of extracellular fluid, among other things because they do not contain all electrolytes, the chloride concentration is too high and they do not contain any bicarbonate. Instead, Ringer's solutions and, in the case of greater blood loss, colloids such as hydroxyethyl starch are used.
The "physiological" saline solution is only approximately physiological because there are deviations with regard to the ion concentration, the components and the pH value (e.g. Li et al., 2016; Reddi, 2013). Above all, the chloride concentration is significantly higher than in blood serum, the pH value is around 5.5 or even lower. This is another reason why the intake of large quantities can lead to undesirable effects.
Indications
Sodium chloride infusion solutions can be used as a fluid replacement, for dehydration, mild shock, hyponatraemia, hypochloremia and as a carrier solution for electrolyte concentrates and active pharmaceutical ingredients.
dosage
According to the medicinal product information. The solutions are administered intravenously as an infusion.
Contraindications
The solutions are contraindicated in hypervolaemia, hypernatremia, hyperchloremia and hypertonic dehydration. The complete precautionary measures can be found in the medicinal product information sheet.
Interactions
Glucocorticoids and ACTH can promote sodium retention with cardiac decompensation.
unwanted effects
NaCl infusion solutions are usually well tolerated. As with other infusions, potential adverse effects include venous irritation and thrombophlebitis.
see also
Infusions, sodium chloride
literature
Medicinal product information (CH, D)
Brochure "Basics of Infusion Therapy" from B. Braun Switzerland http://www.bbraun.ch
European Pharmacopoeia PhEur
Li H. et al. 0.9% saline is neither normal nor physiological. J Zhejiang Univ Sci B, 2016, 17 (3), 181-7 Pubmed
Pharmacopoea Helvetica
Reddi B.A. Why is saline so acidic (and does it really matter?). Int J Med Sci, 2013, 10 (6), 747-50 Pubmed
author
Conflicts of Interest: None / Independent. The author has no relationships with the manufacturers and is not involved in the sale of the products mentioned.
Support PharmaWiki with a donation!
© PharmaWiki 2007-2021 - PharmaWiki provides independent and reliable information about medication and health.
This article was last changed on December 25th, 2020.
Imprint and data protection declaration
Show products for this page