Attorney General Barr resigned
Resignation of Trump's Attorney General Barr
The case of political advisor Roger Stone is widespread. According to the public prosecutor's office, he was imprisoned for up to nine years. US President Donald Trump and his Attorney General William Barr found the sentence too high and intervened. This has now attracted 1,100 former Justice Department employees in Washington. In an open letter, they accuse Barr and Trump of having "openly and repeatedly" violated the principle of allowing the judiciary to decide impartially and impartially. They therefore call on Barr to resign.
The special thing about the open letter: It was signed by ex-employees of the US Department of Justice who worked under both Republican and Democratic leadership. Specifically, they criticize Barr's controversial behavior in the trial against the political advisor Stone, who was convicted in the Russia affair.
"Punish enemies, reward allies"
"Nobody should receive special treatment in law enforcement because they are a close political ally of the president," said former ministry officials, referring to Stone. Governments "that use the tremendous power of law enforcement to punish their enemies and reward their allies" are not part of a "constitutional republic; they are autocracies," the letter continued.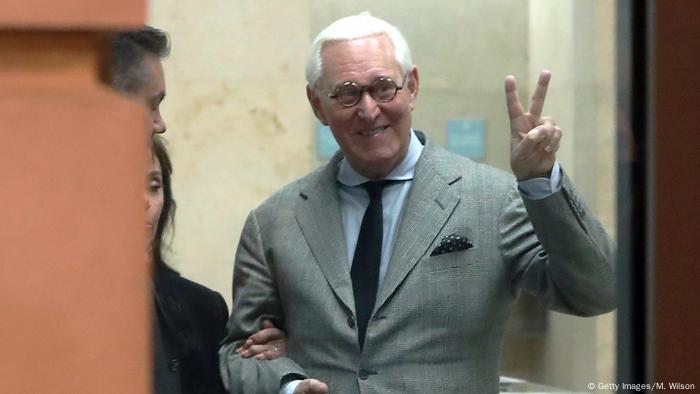 Policy Advisor Stone (November): Perjury, Witness Intimidation and Obstruction of Justice
Roger Stone was found guilty in November of obstructing US Congress investigations into alleged covert Russian interference in favor of Trump in the 2016 election campaign. A week ago, the prosecutor requested a prison sentence of between seven and nine years.
President Trump sharply criticized this: "This is a terrible and very unfair situation," the president tweeted on Tuesday. He could not allow such a "miscarriage of justice". The Ministry of Justice then intervened and advocated a lighter sentence. All four prosecutors withdrew from the case in protest of the intervention. A newly appointed public prosecutor eventually suggested a sentence of only around three to four years in prison.
Barr's attempt at distancing
The otherwise energetic Trump defense attorney Barr tried on Thursday to distance himself a little from the president's actions. Donald Trump complicates the work of his ministry with his statements on Twitter, Barr's allegation. Trump then tweeted that he had the "right" to demand that the Justice Department intervene in criminal proceedings.
Former Justice Department officials said Barr belatedly admitted his disability to Trump. Furthermore, regardless of his criticism, the minister was carrying out the will of the president. "These acts, and the damage they have done to the Justice Department's reputation for integrity and rule of law, require Barr to resign," the appeal read.
The Stone trial came as a result of the investigation by Special Counsel Robert Mueller. Accordingly, there was extensive Russian interference in the 2016 presidential election in favor of Trump. Roger Stone had been convicted of perjury, intimidation and obstruction of justice. The sentence against him should now be announced next Thursday.
AR / wa (afp, rtr)