What is special about tiny houses
What is a
Tiny House?
Even if there is no official definition of what "tiny houses" are in this country, the literal translation of the English term ("tiny houses") means that it is the smallest form of residential building - indeed it could you call them "small houses" - acts. In this context one hears and reads the terms "micro, mini and small house", whereby the boundaries are fluid. After all, in a way it is also in the eye of the beholder what is small or tiny.
In the USA In 2017, the following definition of the term "tiny house" was anchored in the building law: a dwelling with up to 400 sq. ft. of floor space (excluding the lofts). In general, it can be said that houses with the equivalent of 37 square meters of floor space and below are viewed as "tiny". After all, in the USA in particular, the size difference to average-sized single-family homes is immense.
In the USA, too, the building regulations do not differentiate between small mobile and stationary houses. However, since in the USA car trailers up to the following maximum dimensions do not require a special permit, many of the houses built on trailers will not exceed these dimensions: 13.5 ft. (Total) height and 8.5 ft. Width - this corresponds to 4 , 11 m high (including hanger) and 2.6 m wide. In terms of length, there are variants between 10 and 24 feet - i.e. between 3 and 7.3 meters.
In German usage These small houses on wheels, known from the USA, are primarily referred to as "Tiny Houses". Small, stationary houses of other types, on the other hand, are provided with the German terms "micro house", "mini house" or "small house" mentioned above, depending on their size. Such houses are also marketed as "single houses" in order to more easily reach the relevant target group.
Since the German road traffic regulations allow trailers up to 4 m high and 2.55 m wide without special approval and lengths over 7 meters are not really easy to move through Germany (and our neighboring countries), you will hardly come across any larger tiny houses in our country either Because, for a tiny house enthusiast, the extra living space was worth a special permit. The "typical" tiny houses built on trailers therefore rarely have more than 15 square meters of living space, but still have everything essential for living: a living area with a kitchenette, a sanitary area with a shower and toilet and a sleeping loft.
A bit of history
Tiny houses on wheels are not a new invention: As early as the 1920s, there were inventors who wanted to combine the mobility of the car with the comfort of their own home. This is how the first "motorhomes" came about - with increasing "tuning", however, the original structure, reminiscent of a house, soon gave way to a more compact form.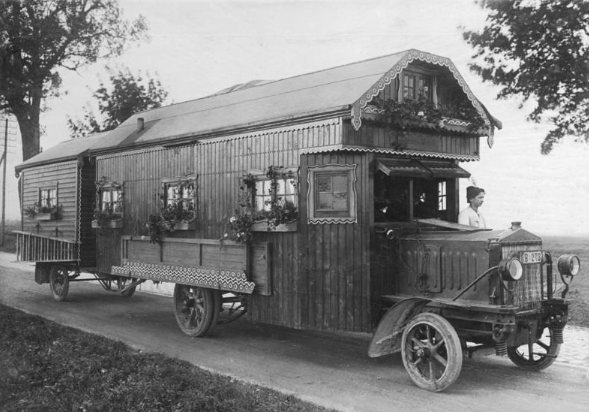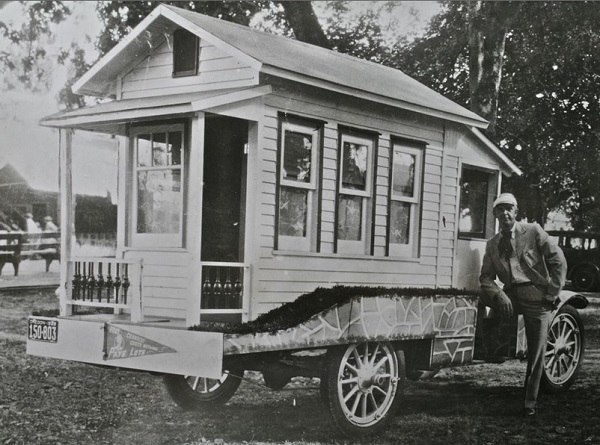 Images: Motorhome, Germany (1922), Motorhome, USA (1929) via tumbleweedhouses.com
The longing for small places of refuge, be it for contemplation or relaxation, is much older: Just think of hermitages or Henry Thoreau's "Walden" ... In the past hundred years, various architects have published designs for dwellings that have been reduced to the bare minimum. Lloyd Kahn and Bob Easton brought in 1973 "Shelter" out, a documentation of down-to-earth construction methods and mini houses all over the world. In 1987 the book by the American architect Lester Walker was published "Tiny Tiny Houses: or How to Get Away From It All". Architect Sarah Susanka then sparked a real hype with her book published in 1998 "The Not So Big House" and the following "Not So Big…" publications. It also prepared the ground for the "Tiny House Movement" in the USA, which Jay Shafer initiated.
The Tiny House Movement in Germany
Even in this country, Tiny Houses are not seen as an alternative to caravans with which you go on tour, but rather as the ideal solution to the need to have your own roof over your head and a tight budget (as well as a change of residence that cannot be ruled out) without significant Bringing debt under one roof. "Tinyhousern" is usually concerned with reducing things to the essentials in favor of financial freedom and personal independence as well as contributing to ecology and sustainability.
In Europe, the tiny house movement is still in its infancy, but more and more people are gripped by the "tiny house fever". For those who would like to find out how much a tiny house costs, which legal regulations apply to tiny houses or what life in a tiny house entails, we would like to provide guidance on the following pages:

Continue reading:
▷ Listing of tiny house providers in Europe
▷ List of various tiny house construction projects worldwide
▷ Construction plans and floor plans for tiny houses
▷ Basic information on building law and road traffic approval for tiny houses
▷ Property exchange with parking spaces for tiny houses
▷ Book recommendations and surfing tips on the subject of "Tiny Houses"