How can you maximize the ROI of your content

Optimize the
ROI on translations

If you want to get things done optimally, you have to work with the facts. Unless you're one of the lucky few who don't have to. Everything revolves around the business result and for this the return of investment, often also called ROI, is a frequently used measurement parameter. In this blog post, we'll help you use a fact-based approach to measuring the benefits of creating multilingual content. But first, let's briefly look at the reasons why this makes sense.
The need for multilingual content
Brands create more content to reach larger audiences. According to the Content Marketing Institute, 76% of B2B marketers and 77% of B2C marketers say they will produce more content in 2016 compared to 2015. This content is also increasingly being translated and localized - which is reflected in a 5.52% growth in the language service industry from 2015 to 2016.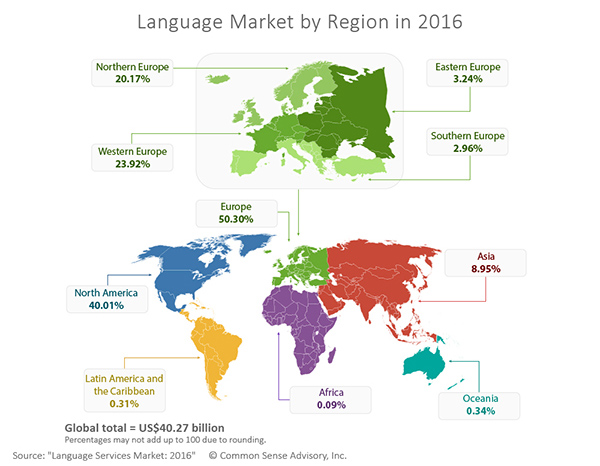 "The global market for outsourced language services and technology will be valued at $ 40.27 billion in 2016" - Common Sense Advisory
Research confirms the benefits of a multilingual customer experience. In a study of consumers in non-English speaking countries, more than half of the respondents said they rarely or never do their online shopping on English-speaking websites. Another study found that more than 4 out of 5 corporate buyers are more likely to choose a product that is presented to them online in their native language.
The importance of speaking the right language is therefore obvious: the customer experience is obviously better when you communicate in the consumer's native language. But budgets are limited and you want to invest in the multilingual content that will get the maximum impact. So let's take a look at how to measure the ROI for your translations.
Measuring the ROI
The majority of brands treat translation and localization as a cost center. However, we believe that this approach is too limited and that these areas should rather be seen as an economic opportunity. This is confirmed by a 2013 survey by the Common Sense Advisory, which found that more than a third of the companies surveyed spent $ 1 million or more annually on localization, but only one in four companies monitored ROI.

In its simplest form, ROI is the net return on the investment (profit minus costs) divided by the cost of the investment. So what's the best way to measure translation ROI? First of all, you need to define your rate of return.
1 Define your rate of return
Your return on investment depends on your business goals and how you measure success. In its narrowest definition, ROI is the ratio between net profit and related costs. But depending on the strategy, other factors could be more interesting for you - for example the number of new customers, their total visit time online, conversion rates, your market share or just the traffic to your website.
When you sell tangible goods, you can define ROI as the value you get from selling those goods. However, if you're interested in leads, your return on investment is the same as the amount you get from a typical lead. It becomes even more complicated when you have to take into account cross-border differences, such as purchasing power and buying behavior. But we will go into the economic possibilities of different languages ​​a little later.
2 Measure your investment
Investments in translations are usually measured in terms of cost per word. Accordingly, measuring this base quantity should not be particularly difficult. It is usually calculated as the number of words translated multiplied by the cost per word. There may be additional fixed costs for the translation software you use. But these are also relatively easy to integrate.
The hard part is measuring coordination costs, which can vary significantly depending on the skill level of your translation partner. If you translate internally via e-mail and without a translation memory, terminology database or other Computer Aided Translation (CAT) tool, you are working ineffectively by today's standards. Any time spent on translation reduces the time resources of your copywriters, project managers, webmasters, digital marketers or whatever other fancy job titles are on the market.
In addition, you need to invest in other areas besides translation to take full advantage of new markets. Customer support is vital and a local sales team can unlock additional regional potential. With this in mind, it makes sense to think about how you can increase the return on your investment in translation.
Improve your translation ROI
So what are some proven ways to improve the ROI calculation for translation work? You need the right technology that reduces manual work and centralizes processes. You should also determine which languages ​​will benefit your company the most and invest accordingly.
Translation management
A good translation management system (TMS) automates a significant part of the translation process. It is the machine that enables you to work more efficiently and with better quality results. Instead of sending translation projects by email and then manually searching for the right files or text fragments, everything is available in one place in the cloud. The most important advantages of a good TMS are efficiency, access to a network of professional translators, the ability to keep an eye on projects and costs, collaborative tools so that everyone is on the same level of information and, of course, scalability.
LanguageWire's TMS system offers all of these benefits and more. The tool acts as a go-between, connecting brands with a global network of language experts and the best file editing project managers and technical experts in the industry. If you manage your translation projects in LanguageWire, this versatile platform combines different modules and thus improves the ROI. Let's take a closer look at some of these modules:
Translation memories and translation databases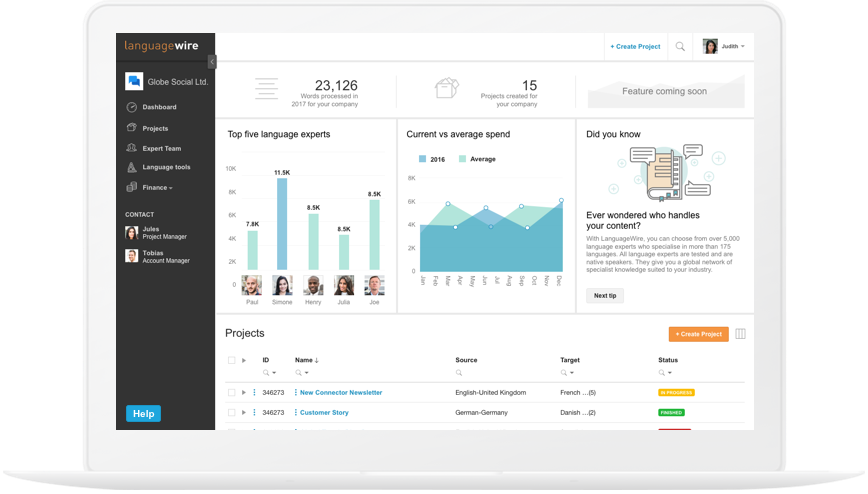 CAT tools (computer-assisted translation tools), as built into the LanguageWire platform, improve efficiency and performance
Wouldn't it be great if you didn't have to pay twice to translate the same text? This is one of the advantages of Translation Memories (TM), a standardized technology used during translation that benefits businesses and translators alike. During the translation process, the TM saves the texts in segments that can easily be called up again when working on similar content. The TM monitors the translation process in an editor and notifies the translator if a similar segment is found in memory. This not only saves time and money, but also ensures a uniform brand language.
A translation database, also known as a terminology database, acts as a glossary. It contains approved, brand-specific terms. A carefully compiled terminology database informs the translator when a standardized term is discovered and offers the correct translation. This also supports consistency and makes translation easier.
In short, a TM is a dynamic database of translated content, while a terminology database is a glossary specific to your brand. Both components improve the quality of multilingual content, save time and reduce translation costs - and thus improve the ROI in the long term.
Collaboration in InDesign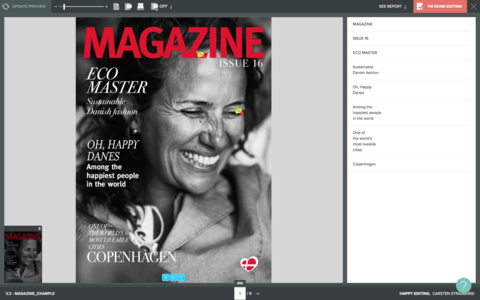 With WeAllEdit several users can edit InDesign documents in WYSIWYG format at the same time
With WeAllEdit, LanguageWire has developed an extremely useful tool that allows several people to work together in InDesign. With this tool, you can annotate and edit InDesign files stored in the cloud without the assistance of a graphic designer. An InDesign installation is also not required.
WeAllEdit is a tremendous help when it comes to proofreading, but it can also be used for other purposes, such as annotating a document layout or quickly updating the text of InDesign documents. Danske Bank uses WeAllEdit and has already saved 1,500 working hours within the first year. Novo Nordisk was also able to save a lot of time - an impressive 15% of all desktop publishing time. When working with InDesign documents, the advantages of such a tool are obvious.
Working with the best in their field and in the best possible way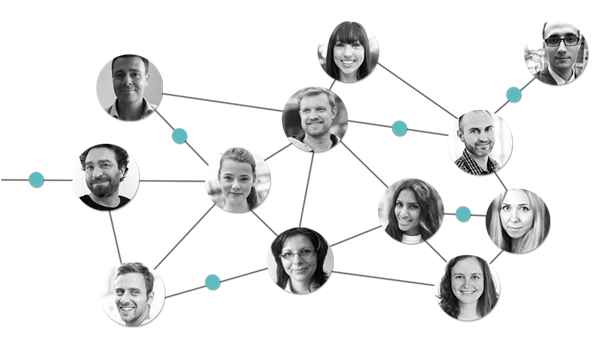 Another proven way to improve ROI is to work with professionals - preferably on an innovative platform. At LanguageWire, we have improved our translation quality by optimizing the way we work with preferred language experts on specific projects, which significantly improves the overall quality. Since our selected experts work continuously on the same projects, they know the brand and its communication style and can therefore create higher quality translations. A good dialogue system that supports communication with the team and makes it easy to keep an eye on projects also makes work easier. If you can quickly access all the necessary information and the project in one place, this makes work much easier. Since all communication is optimized, you don't have to worry about missing deliveries as the completion date approaches.
Choosing the right languages
Since the translation technology eliminates a large part of the administrative effort, it becomes easier to add additional languages. But even if the marginal cost per language is falling, it is important to prioritize investments in languages. Many brands only communicate in two or three languages. However, LanguageWire research has shown that larger companies serve their website in an average of six languages. But is that enough? As more and more people are connected to the Internet, the market share that can be achieved with the main languages ​​is decreasing. According to the Common Sense Advisory, in 2007 12 languages ​​could reach 80% of people on the Internet. In 2015, however, 14 languages ​​were required for this.
But is it enough to look at the proportion of the global audience? In strategic decisions, the economic possibilities of the individual languages ​​are a more relevant measurement parameter. Common Sense Advisory takes into account GDP, population size and internet penetration when calculating these numbers. According to this measurement, only 14 languages ​​represent 90% of global digital opportunities as of 2016.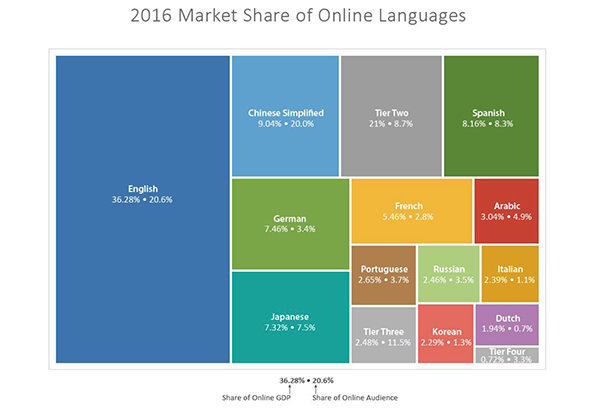 Source: Digital Opportunity: Top 100 Online Languages ​​for 2016 - Common Sense Advisory
To improve ROI, Common Sense Advisory recommends that companies consolidate multiple languages ​​and apply different levels of localization. As you can see in the picture above, 12 tier 1 languages ​​represent 88.5% of digital opportunities in 2016. Ben Sargent described this in a recent article on Brand Quarterly: "Tier 1 languages ​​are the biggest Markets that warrant a full range of product lines, informal content, and marketing campaigns. Tier 2 markets receive a smaller selection of content and campaigns, while websites with tier 3 languages ​​only publish the minimum amount of static information, such as: B. Company contacts.
But it's also important to keep an eye on long-term growth opportunities. English, German, French, Italian, Dutch and Korean have a disproportionately high share of the business opportunities based on the size of the target group. It seems likely that the proportion of these languages ​​will decrease as the rest of the world catches up online in economic terms. It can therefore make sense to also consider the long-term potential of the individual languages ​​when prioritizing languages.
Part of the puzzle
ROI is just one way of measuring success. Identifying all of the variables can be a complex task and the actual effort involved can be disproportionate to the benefits achieved. When looking at investment returns over time, consider Net Present Value (NPV) when comparing investments.
The more variables you add, the more precise the result will be. However, the calculation is becoming more and more complex. Align these calculations with the resources that are available to you. The most important thing is that you put your needs and the most efficient language choice first by choosing the right languages, the right tools and the right translation partner.