What are the uses of the trash
waste paper bin
The recycle bin is used to manage all forms deleted from the mailboxes and files. These were deleted by the users of the inboxes. The administrator now has the option to move these forms back to the mailbox of the original inbox or to delete them permanently. The list is always sorted by ID.
In addition, he can use the button

to permanently delete the entire recycle bin. To do this, he must confirm this process in a security question.
It is not possible for the administrator to see the content of a deleted form.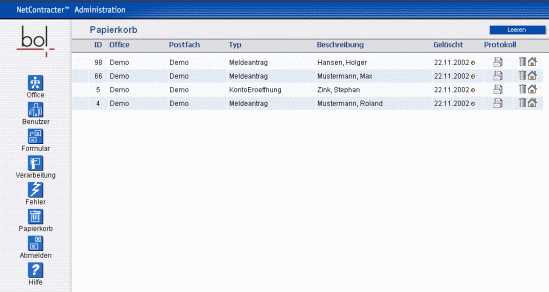 Figure 0-13: NetContracter Administration - Recycle Bin
Below you will find a description of the fields that are necessary for moving back or deleting forms in the recycle bin.
| | | |
| --- | --- | --- |
| Field name | | description |
| | | |
| ID | | Consecutive, unique number that is automatically assigned by the program for each incoming form. |
| | | |
| Office | | Name of the office from which the deleted form originated. |
| | | |
| Post office box | | Name of the mailbox from which the deleted form originated and to which it can be moved back. |
| | | |
| Type | | Name of the form. This designation is read directly from the content of the XML tag and allows conclusions to be drawn about the type and purpose of the form. |
| | | |
| description | | Additional information on the form. This information is read from XML tags or attributes of the form that were defined when a form was assigned to a mailbox (see chapter Form display in the mailbox). |
| | | |
| Deleted | | Time at which the form in the inbox was deleted. |
| protocol | | Log for detailed information about the deleted form. |
| | | |
| (Clear) | | Permanently delete the form. |
| (back) | | Move the form back to the original inbox. |