Why should I never visit Jakarta
Indonesia - what awaits you at the other end of the world
According to the current Mercer study of cities worth living in, I moved from Vienna, number one, to Jakarta at number 142. Life in the "third world" is both an adventure and a challenge.
Even though this is my third trip to Indonesia, it feels like I have to learn everything from scratch like a toddler - speaking, eating, walking.
For three months I do an internship as a lifestyle journalist at "The Jakarta Post", wash my laundry by hand, live without toilet paper and eat on the street with the locals. Would I go to the crowded, loud, air-polluted megacity Jakarta for another three months? No way. Still, I have no regrets. Even if every day was a struggle, I was up to the challenge.
Would I go to the crowded, loud, air-polluted megacity Jakarta for another three months? No way. Still, I have no regrets. Even if every day was a struggle, I was up to the challenge.
After the internship, you will continue to Bali, one of the more than 17,000 islands in Indonesia. The island of the gods smells of incense and is known for friendly people, rice fields and unique sunsets. So what can you expect here in paradise at the other end of the world?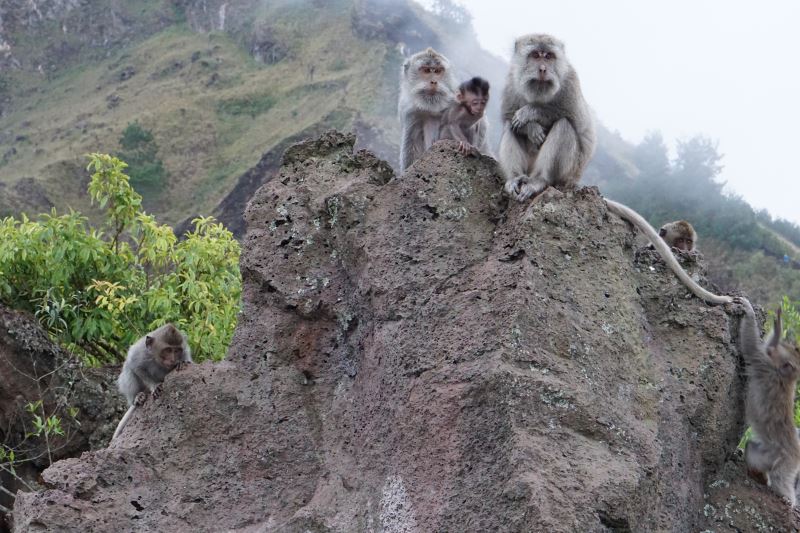 Monkeys in the wild: Gunung Batur volcano in Bali © Sophia Huber / MEINPLAN.at
Food - hot, hotter, sambal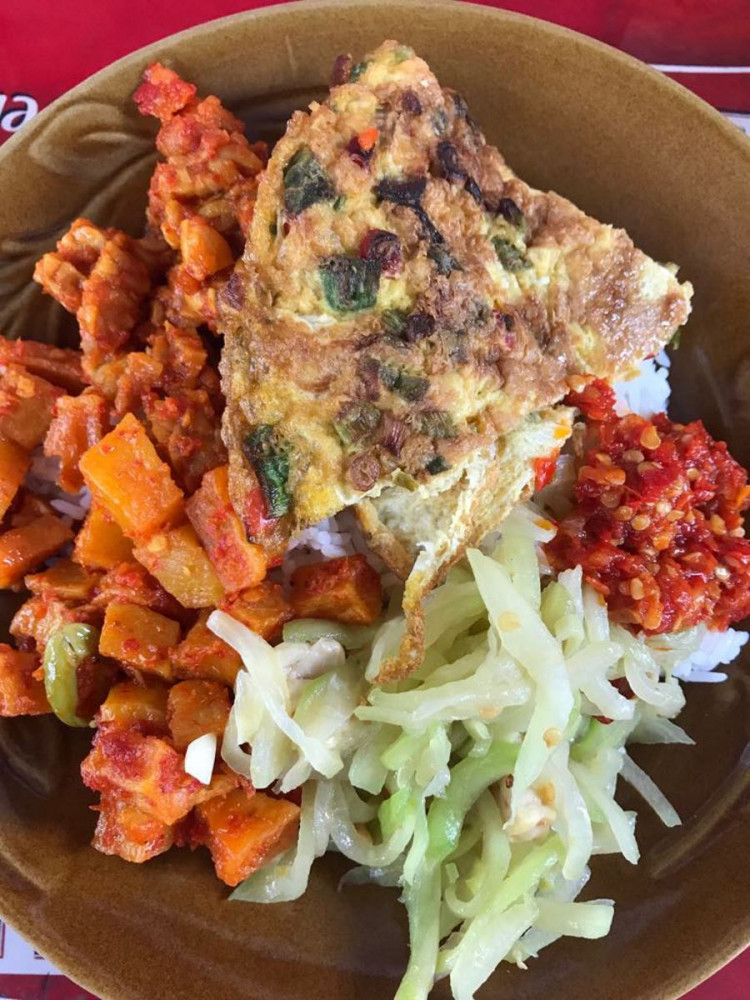 Instead of muesli and bread: rice with vegetables, eggs and fresh sambal for breakfast © Sophia Huber / MEINPLAN.at
Do you like spicy food? Forget it. Indonesian chilli is different from Europe. Carefully and slowly approach the different degrees of spiciness, otherwise it can happen that your hands burn with heat for hours afterwards. Still, there is nothing better than a fresh, tasty sambal (Indonesian chili sauce).
Why the hands? Because here you usually eat with your hands - with your right hand. The one on the left is considered unclean, which is why the one on the right is used for everything else - paying, receiving things, eating. You should remember this rule. By the way, eating with your hands is not as easy as you might think, especially if you can only use one hand.
Dipping chicken and tempeh (fermented soybeans) in sambal is still possible, but have you ever tried to eat pasta, rice or fish without cutlery?
Fortunately, the rice is quite sticky and has a good consistency, so that you can easily squeeze it into small bites and then eat it.
In general, Indonesian cuisine is very tasty, but not particularly varied - soup, noodles, rice, chicken, fish, Martabak (Indonesian filled pancakes). A welcome and delicious change is Nasi Campur. Set up like a kind of buffet, each stand offers different things to choose from. Mostly there are different kinds of fish and meat, tempeh, soups, vegetables and tofu. There is also a good portion of rice, sambal and tea.
What is particularly exciting is the Indonesians' love for instant noodles. They are available in all colors and variations, flavors, sizes, as soup or fried. They're inexpensive and delicious, and you can try all of their flavors.
Bule - Selfie?
It doesn't take long before someone addresses you with "Bule" for the first time. And suddenly it feels like you are hearing it all the time and everywhere.
The Indonesians use this term to describe "white-skinned foreigners". What for me was considered an insane insolence and disrespect - after all, I would never address other people with "black". But it is usually not meant badly and quickly becomes normal.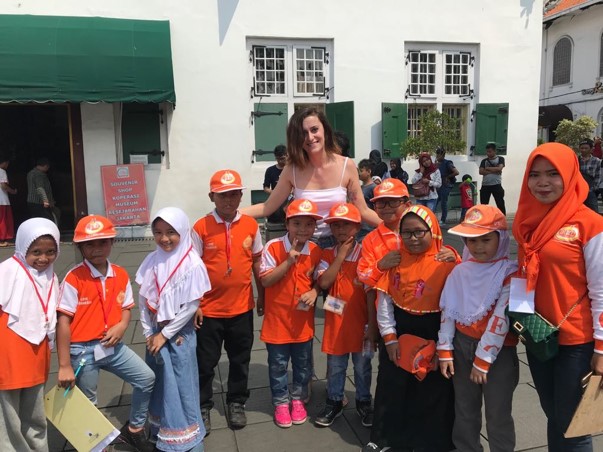 A school class in Jakarta's old town Kota Tua © Sophia Huber / MEINPLAN.at
With light skin and dark hair you will quickly become a 'Katy Perry Celebrity'. For most people, you don't have a name or nationality at first, you are and remain Bule. Most Indonesians are very interested in "white people" and try to start a conversation with their hands and feet and take hundreds of selfies. That can be super funny, but also exhausting.
In any case, you get to know people very quickly and can later tell at home that your own photo is now hanging on the living room wall of an Indonesian next to the wedding photo.
Because Bali is a tourist island, this is not so pronounced here. In Jakarta, on the other hand, you should think twice about visiting the old town of Kota Tua during the day. I promise you it won't be five minutes before a crowd gathers around you and won't let you go.
Avoid fooling around
While almost everything is allowed in tourist Bali, the consumption of alcohol in public is forbidden on the neighboring island of Java. In addition, there is a strict drug law in all of Indonesia - most of the time you are informed about the death penalty for drug trafficking on the plane.
When it comes to traffic, there is only one rule: there are no rules. People drive on the left, often without a helmet and in threes or with a dog and cat on the motorcycle. It is completely normal to be afraid of crossing the street for the first few days, but you get used to it quickly. If you're walking, instead of walking across the street, walk slowly and stretch your arm out to the side to show the drivers to stop.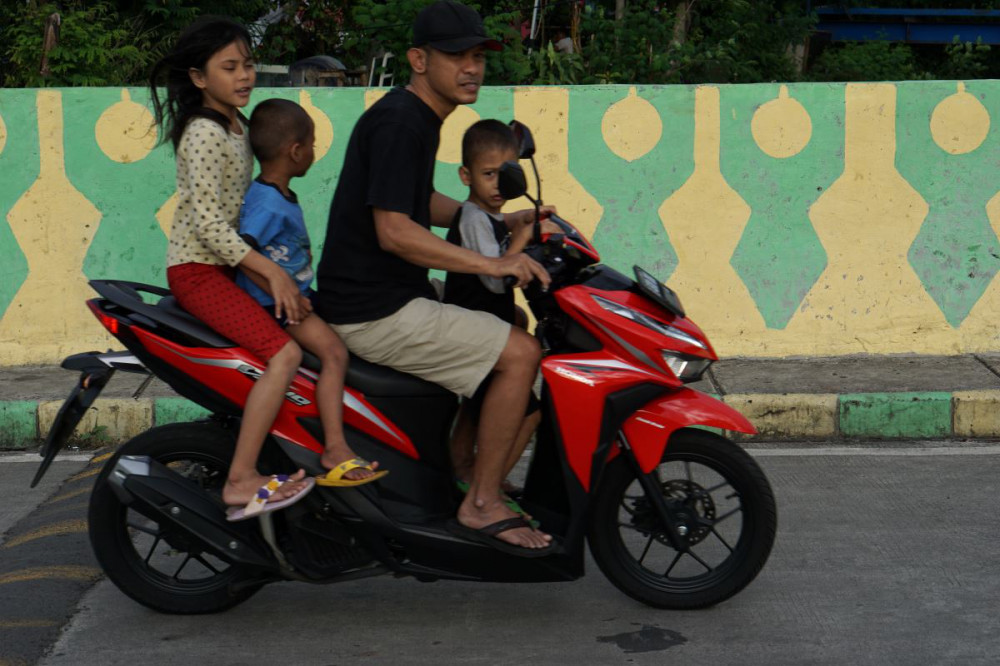 Family outing on a motorcycle in West Jakarta © Sophia Huber / MEINPLAN.at
As lovers, it is important to take into account that kissing and hugging in public is not appropriate. While the locals in Bali ignore it when it comes to tourists, it is an absolute taboo in Java, for example. Here it is not even possible for an unmarried couple to rent an apartment. But don't worry, you can still get a hotel room - except in the city of Aceh, where the Sharia applies.
You should also dress appropriately, whereby Bali is again different from the other islands. While you can easily dress generously in summer here, on the other islands, especially in small villages, it is customary to cover both shoulders and knees.
Packing list for Indonesia
What definitely belongs in your luggage are:
a sunscreen (relatively expensive in Indonesia)
a gel spray (Bali is considered malaria-free, but there are many diseases that can be transmitted)
and various hygiene items (tampons are hard to buy, for example).
As a last tip I can give you: Be aware that you will not find any European standards in Indonesia. Here and there there are cockroaches and rats, mini showers instead of toilet paper, street dogs and often only cold water. Nevertheless, get involved in the adventure of Indonesia.
Avoid tourist restaurants, prefer to eat on the street with the locals. Drink rice schnapps on the beach and enjoy the sunset. Rent a scooter and drive off the island, away from the tourist hotspots. Fight your way through the crazy traffic in Kuta, shop in Seminyak, and surf in Canggu. Spend the night in the jungle in the north and discover the colorful underwater world in Amed. Enjoy the sunrise in Sanur, the most beautiful beaches in Uluwatu, markets in Denpasar and rice fields in Ubud. Climb a volcano and don't let the monkeys rob you. Bali will enchant you and you will return changed.
Hati-hati! (Take care of yourself)
Sophia Huber
Dog person and media management student currently living in Indonesia. My passion? Traveling the world, telling stories through photography and pizza.