What was your experience while visiting Tuvalu
(M) a dream come true .... world tour!
Travel period: June 2013 - April 2014 | by Rolf Bilo
Funafuti in Tuvalu
At 5.30 a.m. you take a taxi to the airport in Nadi to fly to Suva, the capital of Fiji. International flights to Tuvalu depart from here. The flight only takes 22 minutes, but I have to go through the check-in formalities twice. In Suva, the luggage has to be received and checked in again, in the same machine that I came with! Then it goes to immigration, who look a bit puzzled because I can show an entry stamp and the relevant section of the entry form, but there is no entry in the computer. Ultimately, the officer doesn't care, there is the exit stamp and then we can start.
In front of me is a young woman with a German passport, we briefly talk. She starts from Tuvalu with friends on a 6-week sailing trip through the South Seas, has some problems with the entry and exit formalities, which are more complicated in this case, and therefore apparently booked a return flight that she still has to cancel.
The approach to Tuvalu after the almost two and a half hour flight is impressive: the atoll Tuvalu, one of 9 inhabited islands of the state of the same name, stretches very narrow through the turquoise sea, the many palm trees and the only tarred, 6 km long island road are striking. There is a lot of hustle and bustle at the airport, many people are here and it is colorfully decorated. But that doesn't apply to me, it is October 1st and that is the national independence day; plus the 35th and that means - as everywhere - celebrate!
The entry procedure is almost drowned in the swarm of children, old people, dogs and other celebrants who cavort on the airfield and in the airport barracks (there is no terminal). You have to go through four stations: Immigration, Bio-Control, Health-Control and also customs. The officers look funny, they wear uniform shirts with blue or black skirts, which are widespread here. Everything happens quickly, everyone waves you to the next station and you are standing in front of the building - without luggage, because it is brought to an adjoining room by handcart. You can only get to this if you go back to the entrance room with the 4 stations ...
There is only one hotel on Tuvalu, this is 100 meters across from the airport. As is the case with monopolists, the Vaiaku Lagi Hotel not only costs (old) 117 Australian dollars, you also want 5 $ more per night, and if you book including WiFi, this should now also cost 8 $ an hour. A short but heated discussion was necessary to clarify the starting conditions and is good. At least the night itself, because the room is rubbish. Unclean, long black hair in the shower, lots of mosquitos and a fat cockroach and big "bugs" in the room ...
I don't want to bother with something like that for a long time, I want to get to know the country and its people. So, out to the folk festival and mixed with the people. What was a mood here! Music out of the box, later live, many, many children (you are not used to at home anymore) play ball, hop on trampolines and in between loads of dogs! This is getting on my nerves more and more! But apparently, given the variety of calves, they can't choose any and so it remains harmless. Independence Day is also a day of sport, many competitions are held, including official championships. This is how I see the men's and women's weightlifting competitions, a specialty in the South Pacific. But I also get a boat race with a four-arm; people really go along and hoot for joy when two boats go off course while paddling, turn a semicircle, collide and then one capsizes.
Back to the hotel, which is right in front of the police and fire station, I watch a wonderful sunset, talk to two Australians and end the evening with a few cans of "Victoria Bitter".
The next morning, my thirst for action is hampered by a violent, tropical downpour with gusts of wind. The sky is dark gray, the sea almost black, very impressive. It doesn't stop raining until noon, but the sun can't be seen. But it goes out anyway, let's see what there is to explore.
But after almost two hours I come back to the hotel disappointed. Tuvalu has nothing to offer, absolutely nothing! From the hotel go two parallel streets to the only hospital in the country, which is maybe a kilometer. Then the main island road leads to the harbor, after which it's over. Poor houses, more like huts, line the path, at least three dogs stray in front of each of these huts, but also some chickens and cats, other animals are hardly to be seen. There is rubbish everywhere, mostly packed in sacks, but in the absence of a functioning rubbish collection system, everything was torn up by the dogs and rummaged through. And here again the problem of end-of-life cars: there are wrecked cars everywhere, in the gardens, in the water, partly on the street. With an island that is only between 20 and 400 m wide, something like this cannot be hidden. I have not been able to discover bathing beaches as an alternative for water sports enthusiasts here either.
It's good that I'm only here for two days, I think, while I walk back a little disappointed from Tuvalu to the hotel. Because there is only one thing, there are at least some travelers here to chat with.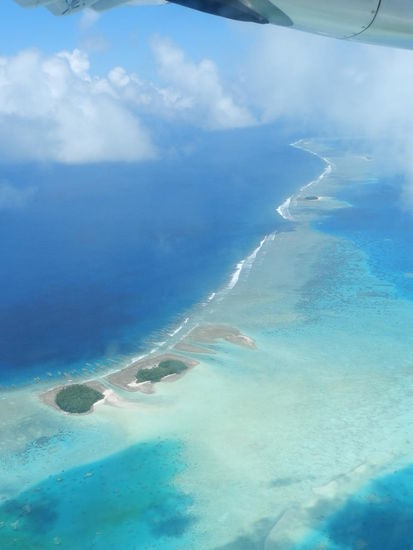 Approaching Funafuti - like colored dots on a string of pearls, small islands protruding from the water announce the main island
This ATR 42-500 from Pacific-Sun, a subsidiary of Fiji Air, connects Tuvalu with the outside world twice a week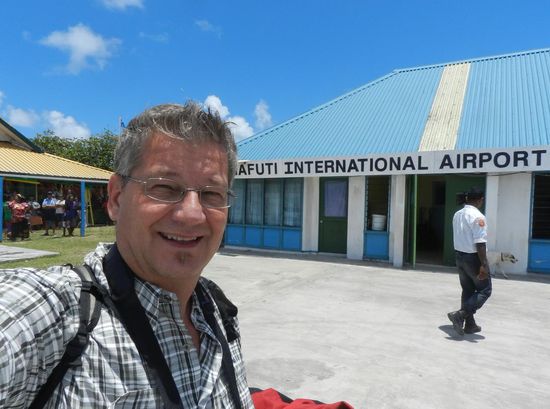 Welcome in ...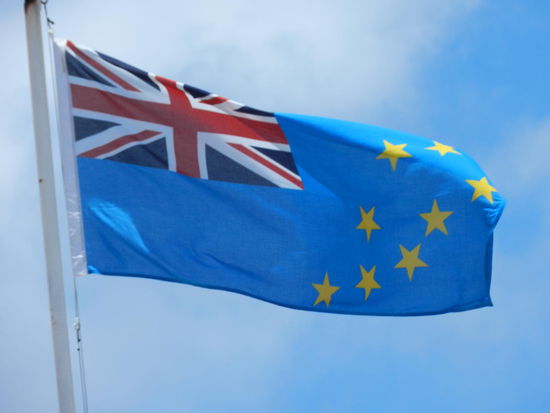 The Tuvalu flag
October 1st is a national holiday, today the 35th anniversary of independence is celebrated.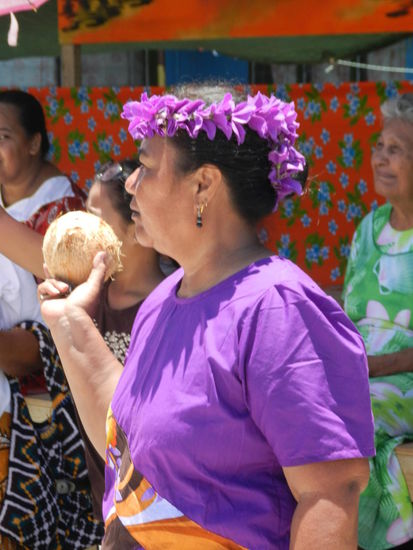 Women, ...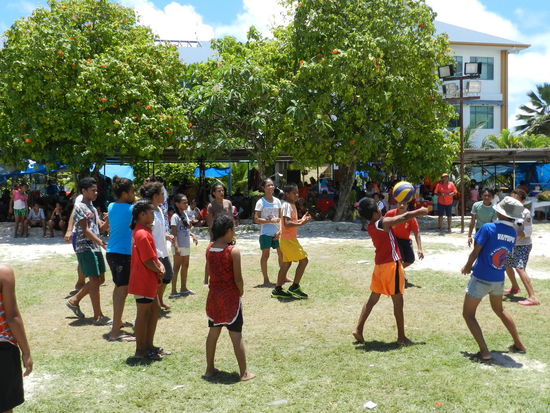 ... numerous children ...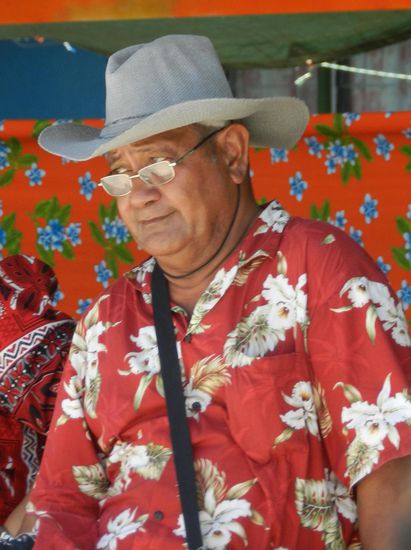 ... and men in baggy Hawaiian shirts partying.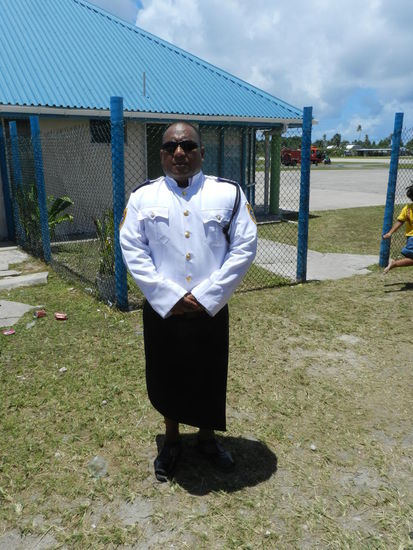 And the police in their neat uniform skirts (ha, ha, ambiguous ...) watch over everything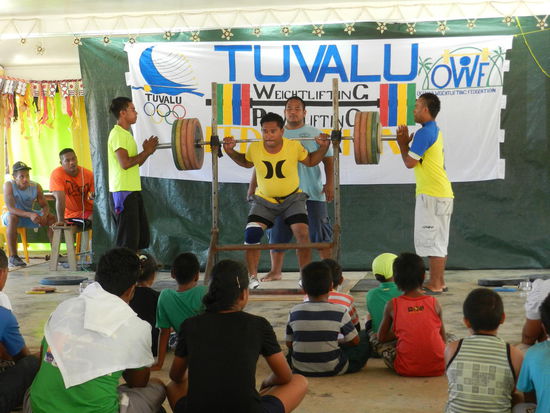 Weightlifting is a popular sport in the entire South Sea region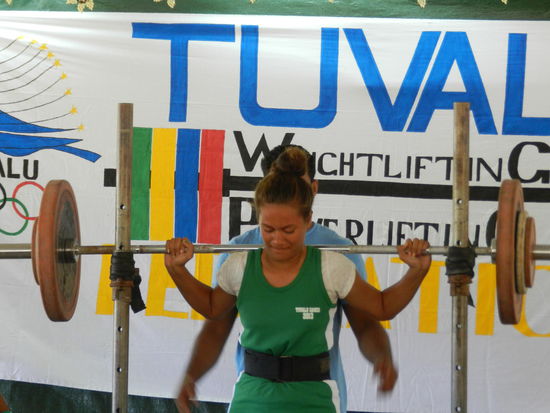 ... and the ladies also participate.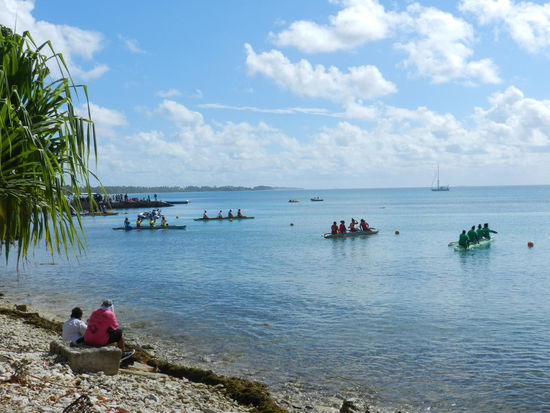 Boat races with outriggers, in a four-without-helmsman line-up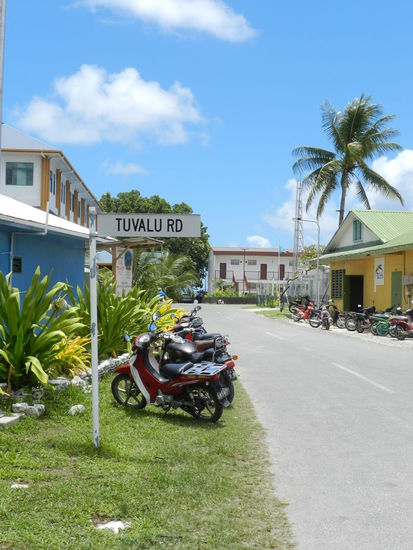 Main street of Funafuti, in the background the Hotel Vaiaku Lagi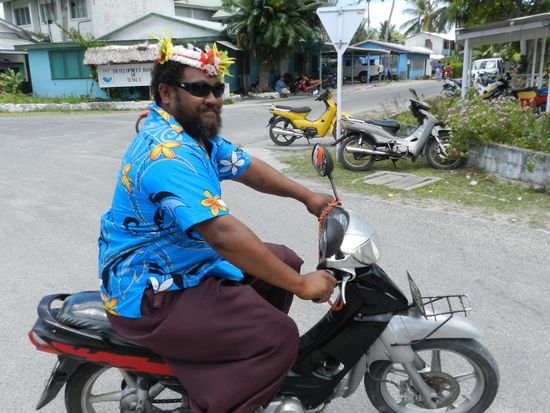 Mopeds are the main form of transport here, there are only a few cars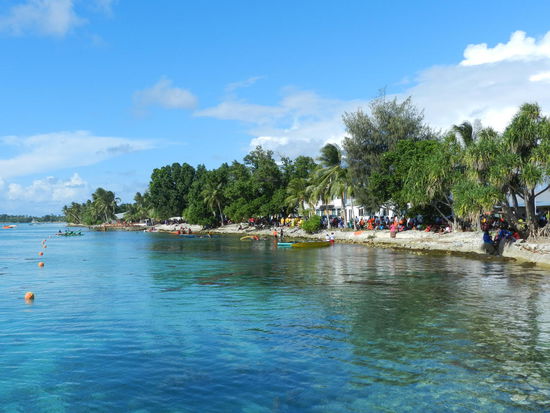 View of the coral rock shore from a jetty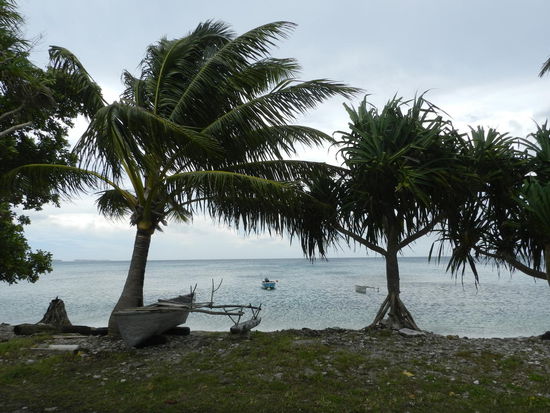 Outrigger boat in front of palm trees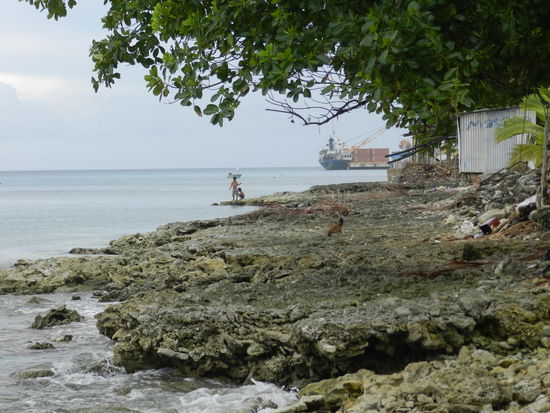 The port of Tuvalus is a bit further out, the way there is not really nice ...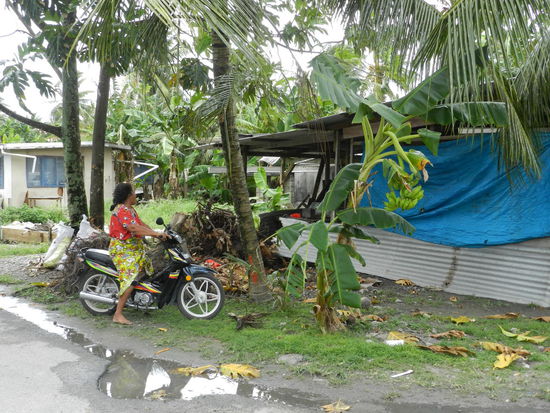 Small, poor houses with stray dogs in front of them line the streets of Tuvalu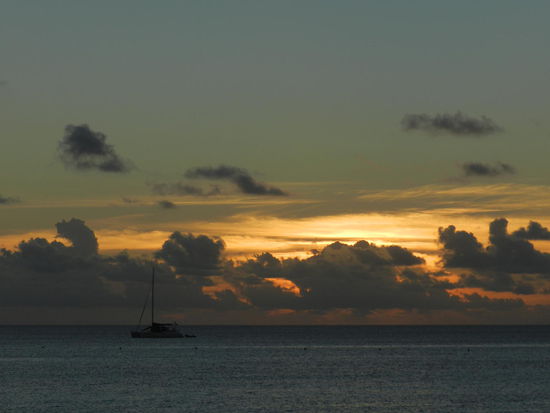 Magnificent sunset over the lagoon
What's the matter?:
After more than 30 years my dream will come true: my trip around the world, the trip around the world, will begin shortly. Around the world for a year, seeing as much as possible, all continents ..... The countdown is on
Details:
| | |
| --- | --- |
| Departure: | 06.06.2013 |
| Duration: | 11 months |
| Homecoming: | 25.04.2014 |
Destinations:
Ethiopia
Burundi
South Sudan
Kenya
Uganda
Rwanda
Tanzania
Djibouti
Seychelles
Mauritius
Madagascar
Comoros
Thailand
Brunei Darussalam
Singapore
Bangladesh
Hong Kong
Macau
Taiwan
Palau
Micronesia
United States
Northern Mariana Islands
Marshall Islands
Nauru
New Caledonia
Fiji
Tuvalu
Samoa
New Zealand
Niue
Cook Islands
Tonga
Australia
Papua New Guinea
Solomon Islands
Vanuatu
Kiribati
El Salvador
Argentina
Brazil
Paraguay
Uruguay
Chile
Great Britain
Bolivia
Peru
Ecuador
Panama
Colombia
Cuba
Jamaica
Bahamas
Netherlands Antilles
Venezuela
Trinidad and Tobago
Guyana
Suriname
French Guiana
Cape Verde
Senegal
Gambia
Morocco
Western Sahara
Algeria
France
Germany
From the guest book (3/96):
julian wengler 1616024884000
I have no question, just get upset about your disrespectful, uninformed, arrogant comment. Apparently someone who only sees everything through his own glasses. Then why don't you just stay at home! Or obese in Singapore?
Rudi Gerber 1531560350000
I have no question, just get upset about your disrespectful, uninformed, arrogant comment. Apparently someone who only sees everything through his own glasses. Then why don't you just stay at home! Or obese in Singapore?
Thanks for your answer. Already clear that it took a while.
I'm an artist and I'm always on the go, sometimes in Asia, sometimes in the Caribbean. Try to travel in a way that is fun and being around people is important to me, travelers and locals. Contact me if I could break more details, again lg Geza