What valuable skill is easy to master
Always felt the need to master Excel? Or learn how to negotiate effectively? Are you interested in programming, would you like to write more fluid texts or would you like to have a knack for photo editing?
Thanks to the Internet, you have access to loads of resources that make it possible.
As long as you have a computer and access to the Internet, you can teach yourself almost anything today. Expensive equipment or even more expensive training courses are usually no longer necessary to learn skills that will give your career a boost or enrich your private life.
The secret: Find high-quality learning resources that meet your quality requirements. Below are 13 skills that you can acquire yourself for free and the resources you will need to do them. Maybe there is exactly the right thing for you.
13 skills you can teach yourself, all for free
1) Become a professional negotiator - that's how it works
Whether you are discussing an idea with your team or negotiating a raise with your boss - in professional life, negotiating is part of everyday life and those who are good at it will achieve their goals faster. Negotiating skills will help you be more confident, address injustices, become more competitive, and even strengthen relationships by skillfully resolving conflicts.
There is tons of reading material on the subject. If you want to read it quickly, I can particularly recommend these two blog posts:
If you want more information, I recommend these two books: "Perfecting Your Pitch: How to Succeed in Business and in Life by Finding Words That Work" by Ronald Shapiro. In this book the author explains how to prepare the perfect pitch and how to use the fine nuances of the language for your purposes. And "The Harvard Concept: The Classic of Negotiation Technique" by William Ury, which serves as a guide for conflict resolution in which both parties benefit.
Of course, you can also improve your negotiating skills by practicing it in everyday life. First of all, practice listening carefully to your counterpart so that your negotiating partner not only notices that you are interested in their point of view, but also understand them. During the conversation, pay particular attention to the emotional state of the person you are speaking to, choose your words carefully and be considerate of the feelings of the other person.
2) Use Microsoft Excel for more than just simple tables - this is how it works
Most people have some sort of thing Basic understanding for Excel - they know how to create a list or a simple table, or calculate something simple. But that's where it stops. You can use Excel to automate your entire reporting system and save yourself hours of tedious administrative work.
Would you like to develop your Excel skills and get rid of the boring manual updating of Excel tables once and for all? There are tons of free resources online to polish up your Excel skills. We have already created a whole range of learning materials on this topic ourselves. Here is some of our top stuff about Excel:
3) Investing money - this is how it works
Investing money can quickly become a pain in the ass. The technical jargon is often difficult to understand for laypeople. What are index funds, please? And what on earth is the difference between Rürup and Riester? If you're not familiar with the terms, they can be quite daunting at first. In addition, the processes seem so complicated and opaque that one would prefer not to deal with them in the first place.
At the same time, we all know that it is important to learn the smartest ways to invest and invest our capital - especially if you have a steady income.
There are plenty of helpful resources on the web on this topic as well. I can particularly recommend Investopedia. There are many free online resources available on this website, including this introductory course on stocks. Another helpful website is that of the LearnVest's Knowledge Center. Here you will find a variety of content on investing money and personal finance, such as budget planning, saving, loans and mortgages, and more.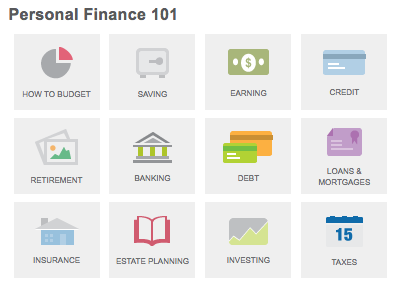 Image: LearnVest Knowledge Center
4) Write fluent texts - that's how it works
Everyone can write. Whether it's writing emails, blog posts, or quick Twitter messages, these days we're all involved in the world of online communication in one way or another. In addition, it turned out that we all benefit from freely writing a few things off our minds in the morning.
Do you want to fix your spelling and grammar mistakes? Find your voice as a writer? Write your first blog post? Learn to structure your paragraphs better? First, think about what exactly you would like to improve in your writing skills. You can assume there is a free resource for this.
If you just want to improve your writing skills in general, check out this inspiring 18-minute talk my colleague Beth Dunn gave a few years ago on INBOUND. I've saved this video in my bookmarks and keep checking back when I'm looking for some inspiration.
Of course, trying is better than studying. As Beth mentioned in your talk, the best exercise to improve your writing is the writing itself. Practice, practice, practice - every day. To do this, you can either take pen and paper and start writing, or you can try one of the many apps that ask you to write and help you get started with different text. Some of them cost a few euros (like prompts and writing challenge), others are completely free to download. For example, Grid Diary is suitable for people who just anything want to write in diary format. Questions like "What have I done for my family today?" And "How can I make tomorrow better?" Initiate the writing. (For more tools, see this list: "11 Great Tools to Organize, Develop, and Share Ideas").
If your main concern is improving your spelling and grammar, then I recommend the free Hemingway web app. When you have written a text, you can copy it into the app. The app then assesses whether your text is legible and gives you suggestions for improving and simplifying the text.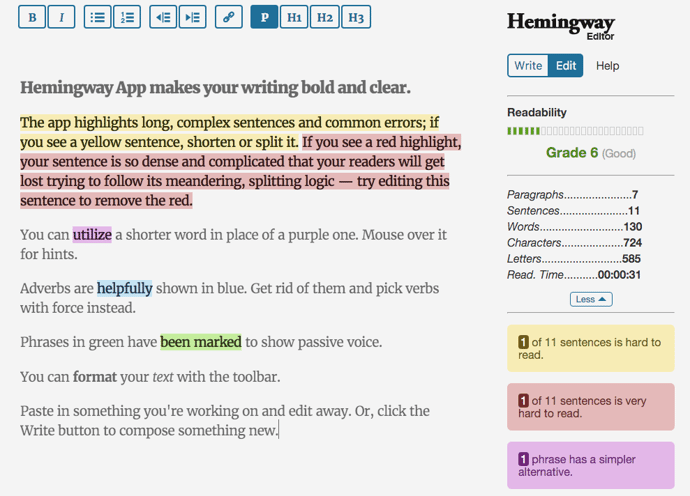 5) Read faster - that's how it works
Since we live in a world where written content is one of the most important aspects of our everyday life, many of us have lists of books to read or courses to take on our desks. In addition, in many professional fields it is necessary that we are always informed and follow the latest developments and news in our industry. Slow readers - including me - stumble quickly. Absorbing this incredible amount of information seems almost impossible. But how on earth do I learn to read faster and skim through texts?
Obviously we have to change our reading habits first. For example, I've gotten into the habit of imagining every single word read in my head as pronounced. I can only get rid of this habit if I consciously concentrate on it.
Fortunately, there are points of contact on the Internet for these purposes as well, which will help you to read faster and to practice speed reading regularly. For example Spreeder, a free online program that claims to help double, triple or even quadruple the reading speed of users. Simply paste any text into the text field, choose the settings you want (how quickly you want your words to appear in succession and how many words you want to appear at once) and hit the "Play" button. The app will then display one or more words on the screen at the speed you selected.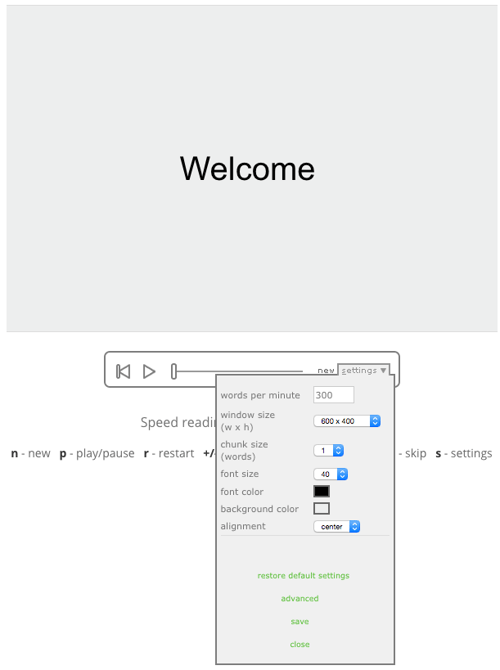 Once you get used to the app, the next thing you can do is practice your speed reading across the World Wide Web using the app. Simply select any text that can be found on the Internet via the app. (And remember, it will take you a while to actually read faster.) Start with simple text like blog posts and short articles. When reading text in printed form, use your finger, a pen, or an index card to control your reading speed.
6) Type faster - that's how it works
If you have not yet mastered the ten-finger system and can type blindly, then it is high time you did. Believe me: it's worth it! Think about how much you type in a day. And then imagine how much faster you would get things done if you could hit the keys faster. The ten-finger system is a skill you can use to make your entire everyday life more productive.
I have probably already spent too much time with typing games on the internet. It's just too much fun trying to beat your own words-per-minute record! There is a huge selection of such typing games on the net, but one that I can highly recommend and that is particularly easy to play is the balloon game for typing by Sense-Lang. In this game, letter balloons float across your screen from top to bottom and you have to try to pop them by tapping the correct letter on your keyboard - before the balloons disappear from the bottom of your screen again. If you are looking for a little more thrill, then give the quick-tap racing car game a try.
7) Take beautiful photos - that's how it works
Nowadays you can save yourself the expensive photography course thanks to the internet and modern technology. You don't even need a fancy camera to take beautiful photos. All you need is a smartphone camera, a good subject, and the patience to learn some specific photography techniques.
First of all, you can learn to stage motifs in such a way that they result in a balanced ensemble of images. The rule of thirds says that a picture should be divided into thirds - both horizontally and vertically (so that your picture has a total of nine parts). You should then place points of interest at the intersections or along the lines.
To get a better overview, you can also activate the grid in your mobile phone. To do this, follow these steps:
iPhone: Open your "Settings" and then navigate to "Photos & Camera" and switch on "Grid".
Samsung Galaxy S5: Open the Camera app and navigate to Settings, then scroll down and tap Grid View.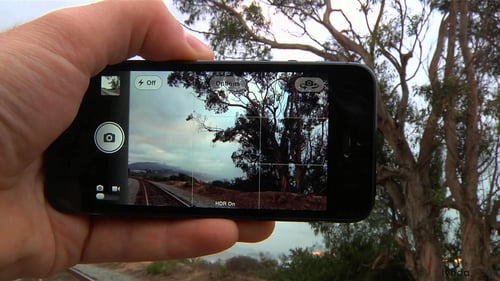 Image source: Lynda.com
Read these 17 tips for beautiful photos with your smartphone and learn how to skillfully stage your motifs, find the right perspectives, use symmetry and patterns, frame motifs and more. Then it is time to practice, practice, practice. Take lots of photos and improve your technique step by step.
8) Edit photos - that's how it works
You can make beautiful photos even more beautiful through the art of photo editing. And best of all: You don't need expensive editing software! There are tons of free photo editing apps out there
such as VSCO Cam (free on iOS and Android). This app is a great way to edit your pictures on the go, especially if you just want to apply a nice filter. VSCO's filters are slightly softer and more natural than many of Instagram's oversaturated filters, and will give your photos a more real look.
Another free and robust editing app is Snapseed (free on iOS and Android). Snapseed allows you to make simple image enhancements such as minor adjustments, cropping, and straightening images.
But the Instagram app can also turn your pictures into small works of art - completely free of charge.
Would you like to take it a little more professional and edit your photos with Adobe Photoshop? If you don't already have Photoshop, you can try the software for free before subscribing. Of course you can also learn how to use Photoshop for free.
9) Programming - this is how it works
If you master the basics of programming today, you have a decisive competitive advantage - regardless of whether you work in marketing, are an entrepreneur or are in some other way in the business world. Even if programming is not your main activity, basic knowledge can be extremely helpful, for example to fix small bugs or to be able to communicate more effectively with software developers if you can but need help once.
There are tons of programming courses and bootcamps out there that sound promising but cost hundreds or even thousands of dollars. Luckily, there are tons of free resources online too to help you teach yourself the basics.
If you just want to get a quick overview of the topic and learn how HTML, CSS and / or JavaScript actually work, then take a look at this blog post. Here we explain the most important basics to you.
10) Use inbound marketing successfully - this is how it works
Today, you no longer need to sign up for an expensive marketing course to gain extensive marketing skills. On this subject there is infinitely many Free resources on the Internet that not only teach you the basics of a customer-oriented inbound strategy, but also provide detailed instructions for creating landing pages.
At the beginning, just take a look at our HubSpot Academy. You can find a variety of helpful resources here. For example, the Inbound Marketing Certification Course is a free marketing training course that covers SEO, blogging, landing pages, lead nurturing, conversion analysis, and reporting, and explains how these topics are all part of a modern inbound marketing strategy. The Academy also provides a range of helpful training videos on topics such as buyer persona, content creation, and more.

You can also get certified by Google Analytics completely free of charge. Simply take the online course from Goolge Analytics and take the IQ exam.
You should also keep yourself up to date and monitor marketing trends. For example, subscribe to the following blogs: Unbounce, CrazyEgg, KISSMetrics, Content Marketing Institute, CopyBlogger, and Search Engine Land. (And HubSpot of course!)
11) Learn to read and speak a foreign language - that's how it works
Of course, it usually takes years before you can speak a foreign language fluently. But you can teach yourself some helpful basics by simply practicing something over and over again. And completely free of charge.
In the past, people used to go to the library and borrow language books a lot. Even today, this is still a good way to approach a new language without financial outlay.
However, there are now a large number of apps that offer free language training. For example DuoLingo (free on iOS and Android), a language training app that makes learning really fun. Each lesson is short, painless, and offers a ton of visual learning aids.Slate even described the app as "the most productive way of avoiding work that I've discovered so far." App users also get to know the spoken language better by pronouncing the vocabulary - and all of this can be done on the go!
Here's another brilliant tip to improve your foreign language skills: Simply change the language setting on your smartphone or the user interface on your computer to the foreign language you want to learn. (Make sure you remember exactly how you navigate back to the settings before you change the language.)
iPhone: Open the "Settings" and select "General".Then select "Language & Region" and tap "iPhone Language". Select the language you want and confirm your selection.
Android: Open the "Settings" and select "Languages ​​& Keyboard". Select the "Language" option, then select the language you want.
Of course, you cannot learn to speak a language fluently unless you converse with others in that language. For example, if you live in a city, you could join an interest group for a specific language through Meetup.com. Meetup is run by volunteers and is therefore also free of charge.
12) Give lectures confidently - this is how it works
Did you know that the thought of lecturing in front of an audience scares most Americans more than heights, bugs, and snakes? For all of these people - whether they're terrified of public speaking or just wanting to improve their presentation skills - there is wonderful news: You can polish up your rhetorical skills without the need for nonfiction and expensive courses. These resources give you an initial overview:
Would you like to watch your lectures again afterwards? Knovio is a cool, free app that lets you upload your slides and then use the camera on your computer or smartphone to film yourself while presenting. You can then either watch the video yourself to find ways to improve, or send it to your colleagues or friends and get feedback. Simply post your Knovio presentation on YouTube or Vimeo, or send it by email.
Just like learning a new language, if you really want to learn how to give speeches and presentations confidently, you need a lot of practice. For example, you could join a group on Meetup.com. In this way, you can test your speaking skills in a protected environment and receive support from other members.
13) Meditate in everyday life - this is how it works
Perhaps you are now thinking: meditation - what does it have to do with my professional life? Quite a lot! Studies have shown that people who take time to do a quick meditation in the morning before starting the day are more productive for the rest of the day. According to a 2012 study, people who meditate "were able to concentrate on one task longer and switch between different tasks less often. They also received less negative feedback on their work. "
Not sure how meditation actually works? Again, there are tons of free resources online to teach you how to meditate. I particularly like the Headspace app. It offers users 10 guided meditations free of charge to get started. If you'd rather not pay for the monthly subscription afterwards, you can also find some free guided meditations on the UCLA Health website that are between three and 20 minutes long. If your desire for meditation is fully gripped, you can listen to other guided meditations for free on the Fragrant Heart website.
Originally published June 22, 2018, updated October 30, 2020
Recommend this article: