Should I live in Morningside Heights
Rental apartments in Morningside Heights, New York
Are you looking for a conveniently located apartment, from which you can quickly get to the subway and also have the student life of some of the famous Manhattan universities on the doorstep? In that case, you'd better stay in Morningside Heights, New York.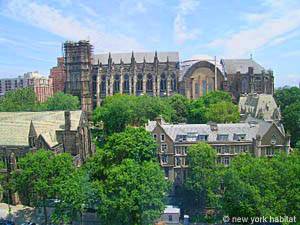 The view from Morningside Heights
In the eyes of some, this neighborhood has become a continuation of the Upper West Side, others believe that it has already become a very extraordinary, independent enclave. Finding an apartment in Morningside Heights can be difficult because Columbia University has bought many properties in the area, but there are still great deals to be found here.
What you should know about Morningside Heights:
Morningside Heights extends from the edge of the Upper West Side at 100th Street to 125th Street in the north, and from the Hudson in the west to Morningside Park in the east. There has been a lot of investment in this neighborhood over the past decade, with new homes and new university buildings sprouting up where freestanding lots can be found.
Columbia University, Bernard College, and Manhattan School of Music are some of the institutions that have settled in this neighborhood. You will also find a growing selection of different restaurants along Broadway and Amsterdam Avenue. The most popular are Bistro Ten 18, located on Amsterdam and 110th Street, here you will find the traditional American offerings of a bistro restaurant and a large selection of wines and beers from all over the world. This is also where Awash Ethiopian is located, where East African cuisine is presented on 107th Street and Amsterdam.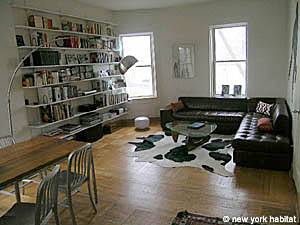 New York Uptown apartments
Transportation in Morningside Heights is controlled by Line 1, which runs along Broadway and stops at 96th Street, 103rd Street, 110th Street, 116th Street and 125th Street. If you want to get to Midtown or Downtown Manhattan quickly, you can change to the Express at 96th Street. The neighborhood is also home to numerous bus services, including the M60 bus that runs along Broadway from 106th Street to 125th Street and then crosses the Tri-boro Bridge and La Guardia.
Apartments in Morningside Heights:
New York Habitat offers a variety of apartment types in this neighborhood as well as in Harlem and the Upper West Side. Remember to make your choice early as these apartments fill up quickly, especially in September.
Shared apartments in Morningside Heights:
Furnished Apartments in Morningside Heights:
For example, if you want to live close to colleges and universities, or close to restaurants and convenient transportation, a furnished apartment or shared apartment on the Upper West Side in Morningside Heights, New York might be for you.