How do I meet Iron Maidens guitarists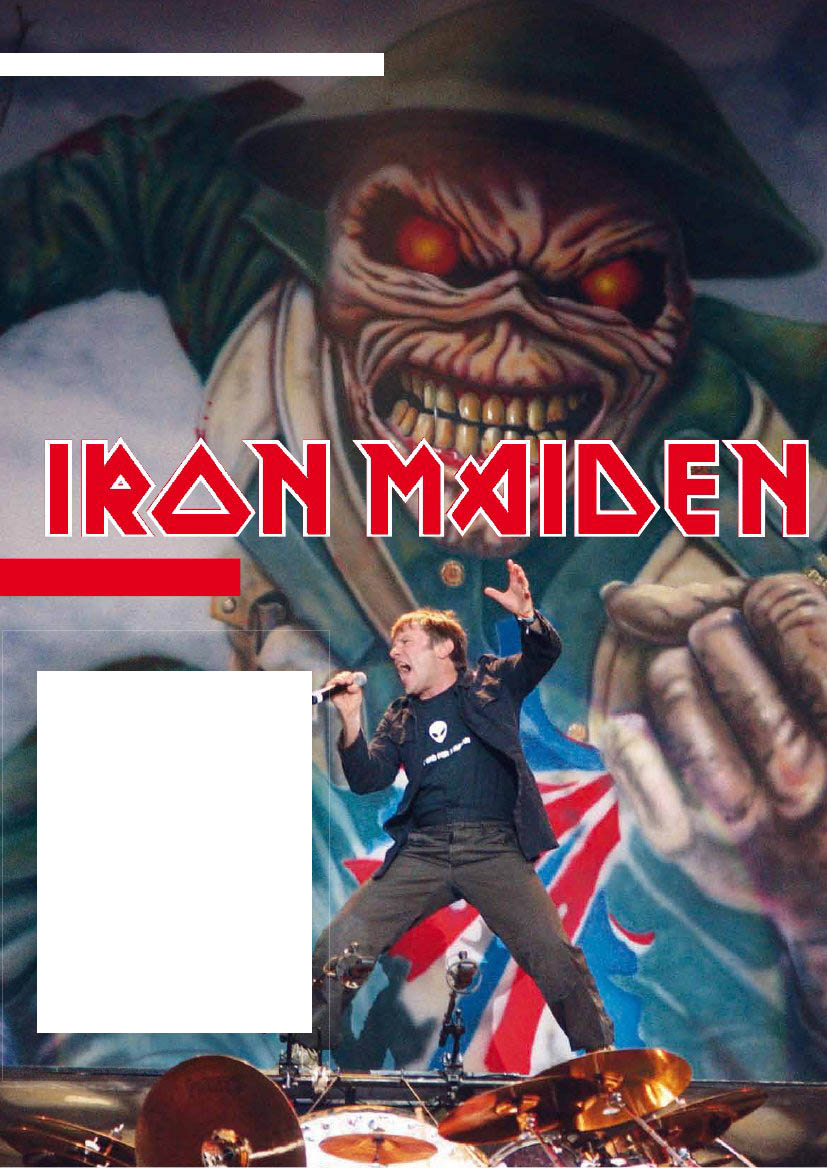 INTERVIEW: IRON MAIDEN / BRUCE DICKINSON
Bruce Dickinson is what you are
calls a polymath: a
good all-rounder, one thing
alone is just not enough. What
not in the case of the 52-year-old Briton
Iron Maiden frontman is him
is also hired as a pilot,
Radio DJ, TV presenter and producer
supplier of fencing accessories. Like him
that brings everything under one roof and
how much input he got on "The Final
Frontier ", the new Maiden epic,
brought in, SOUNDCHECK learned that
at the exclusive interview in Toronto.
PHOTO: FRANK WHITE, EMI MUSIC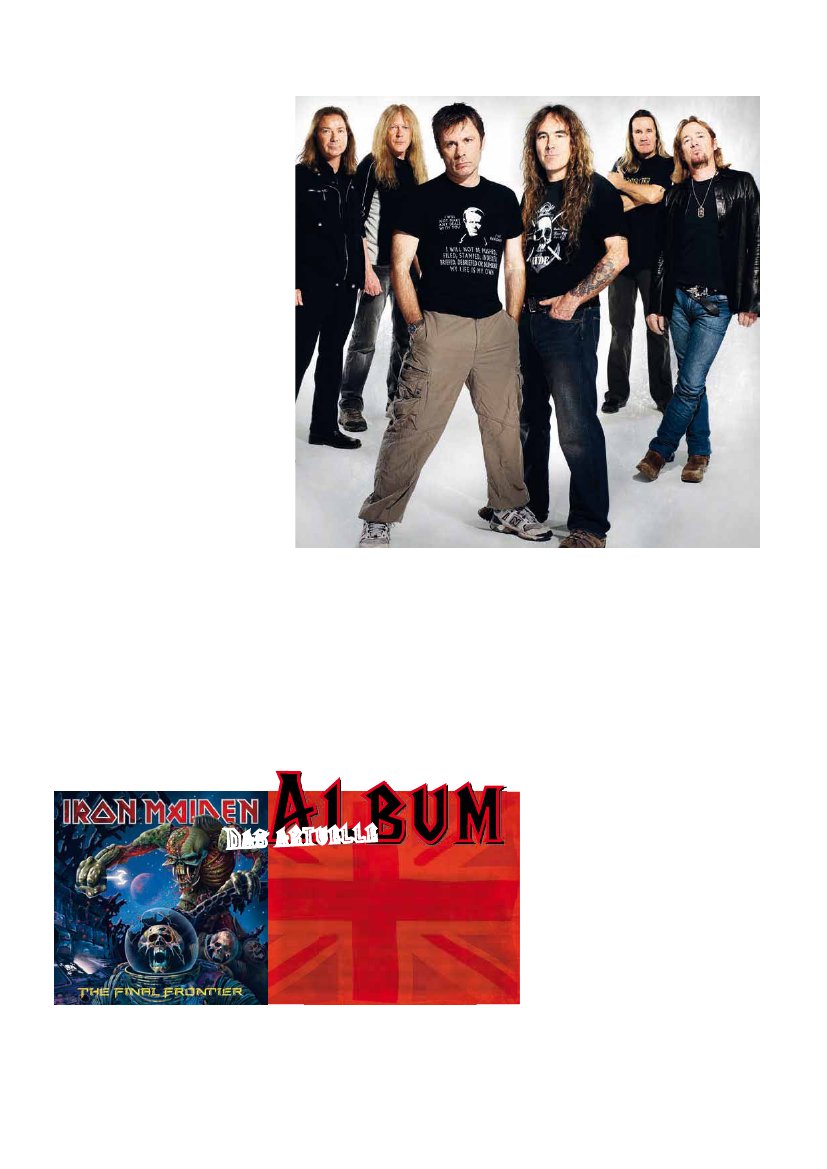 e meet Master Bruce like him
Jokingly call bandmates in
his spacious suite in the mundane
nen Four Seasons, as befits a rock star
heard over the course of his 30 year career
has sold nearly 100 million albums and always does
nor the largest amphitheaters, festivals and
Fills halls around the world. Iron Maiden,
this is also 2010 traditional old school metal
le - with texts about honor, death and the devil, strong
Prog rock and folk influences as well as epic
Solos by three guitarists who
mando from band leader, bassist and main
songwriter Steve Harris report. A metal
First-class purist, the Maiden since the mid-70s
keeps on course, and sometimes over corpses
goes - because concessions, just not there
are. What Dickinson experienced first hand
when he worked for a government
pleaded change of direction. But he was
resists because Harris made no concessions
was ready and in the aftermath, according to Dickinsons
temporary exit, even a career kink
with a new singer and clearly dwindling
Accepted sales figures.
Dickinson himself, however, ventured a new
start as a soloist who was not
released fewer than five albums, un-
was tired on tour, and still not off
the shadow of his former colleagues
In interviews it was
More about the relationship with Maiden and hers
new vocalists as well as a possible return
kehr - while his work is in the back of the chart
bobbing around and the halls not only
getting smaller, but also emptier.
On the other hand, it went all the better outside of music.
His company "Duellist" is still regarded today as a market
leading in high quality fencing accessories
listen, his fantasy books were blooming
Bestsellers, and as a pilot of the British charter
company Astraeus, he flies regularly
One of the immovable figureheads of traditional metal:
Iron Maiden in the person of Dave Murray,
Jannick Gers, Bruce Dickinson, Steve Harris, Nicko McBrain and Adrian Smith (left to right).
beer monsters in the hotel castles at midday
telmeer. All activities that he himself
a return to the Iron Maiden
has given up. On the contrary: it has been filling since 1999
also the role of the Maiden pilot who
the Ed Force One controls a Boeing 757 that
Band like equipment transported, or fans too
Concerts fly. But here and now he is ahead
one thing: an extremely entertaining language
pipe of a seasoned group, which also after
15 albums no signs of wear and tear
but even on a new
is flying high - but read for yourself ...
SOUNDCHECK: Your new album has been
now supervised by Kevin "Caveman" Shirley.
What has made the man a for a decade
Producers you trust?
Well, we couldn't have anyone
find one that's cheaper. (chuckles) But fun with-
Seite: Of course it is anything but cheap. Just:
We wanted someone we knew. He knows,
how we tick - and vice versa. What only that-
half important because we're a pretty weird one
Heaps are. Just what working in the studio
concerns. We're almost like the Rolling Stones.
SC: In the sense of, "I don't like this - me
Or: "It is done that way, but not that way
- simply because it has always been like that. "Or
also: "I've been doing this for 20 years - and I've been doing it
it stays. "That's how it is with us. Just like the deed
thing that we go to these big studios.
We spend big sums on big studios
With their 15th studio album, the
NWoBHM legend Iron Maiden her fans far
Varied food for over an hour that
sounds entirely like Iron Maiden at any time, but
skillfully incorporates other influences. So ensure
wa folky or spherical elements for many
different moods and never leave boredom
come up. It will be interesting to see which songs
this record will make it into the live program.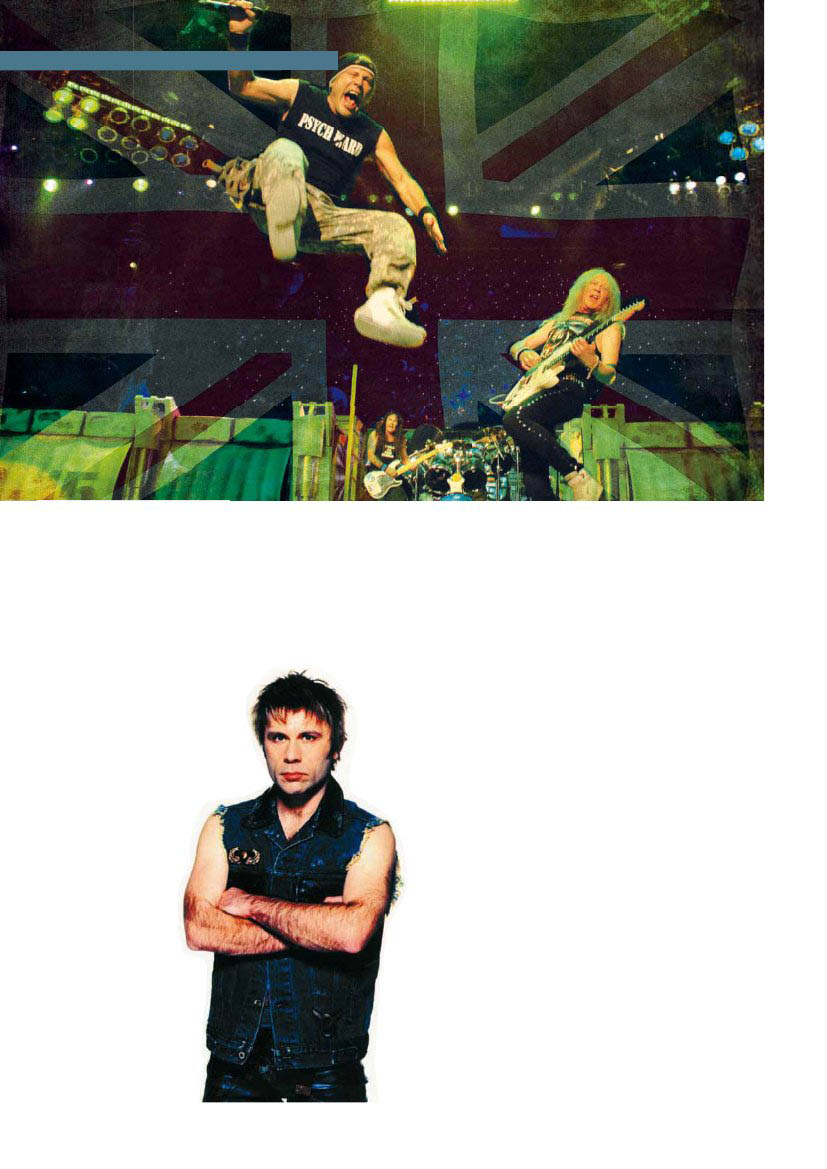 INTERVIEW: IRON MAIDEN / BRUCE DICKINSON
Bruce Dickinson at his
- simply because that's the way it is with us. In doing so,
we probably didn't do that at all. We
our albums could just as well be in ours
Make bedrooms like everyone does today.
But hey, we're Iron Maiden.
SC: "The Final Frontier" has a very "fun
The cover, yes. And our stage show too.
But otherwise there is only one song that works
This is the subject of… the title track.
Otherwise the album is a collection
of songs that are about
rotate different topics. Although:
"Starblind" is very spacey - and
neither. Because it has nothing to do with "The
Final Frontier "to do. Nothing at all.
SC: Besides all these small
some very long pieces.
"El Dorado", the first sin-
gle, listen, have you no ah-
how this album sounds.
I still take care of one
SC: And why are you pairing that of all things
as a single and harbinger of the album?
Because it's the only song we'd have
can take without us humans
to expect too much. (laughs) Because would have
we "The Final Frontier", the title
piece, taken, would you
ken it would be a classic rock
Album. So in the truest sense of the
Word. If, on the other hand, we had "Co-
ming Home "
they say: "My God, now ma-
they are looking for Scorpions. Has-
Lost your mind - that sounds like Radiohead. "
So we took "El Dorado" - because of
this galloping rhythm, and because of it
Has a big refrain - and damn it
sometimes sounds like Maiden. So we thought
us: Let's take that first and wait for the
bang. Because that's a huge surprise.
It's extremely varied. That catches
already at the intro to the first song, where you
Feel that it could also be a radio
act head-outtake or something. Alone we-
gen of synthesizers and the type of tribal drum
ming. When people hear this, they will
rant saying: "What happens next?" And
then comes "Final Frontier". The first one
some tracks on the album are still quite traditional
sound nice, at least in my opinion.
And then it starts to hook a few
genes that are pretty prog rock and epic
are. Other parts, on the other hand, are very jazzy and
others sound like downright jams again.
I mean it's a really cool album -
not necessarily what we are expected to be.
Makes his stage outfits
served for the current tour in
an army shop in the USA.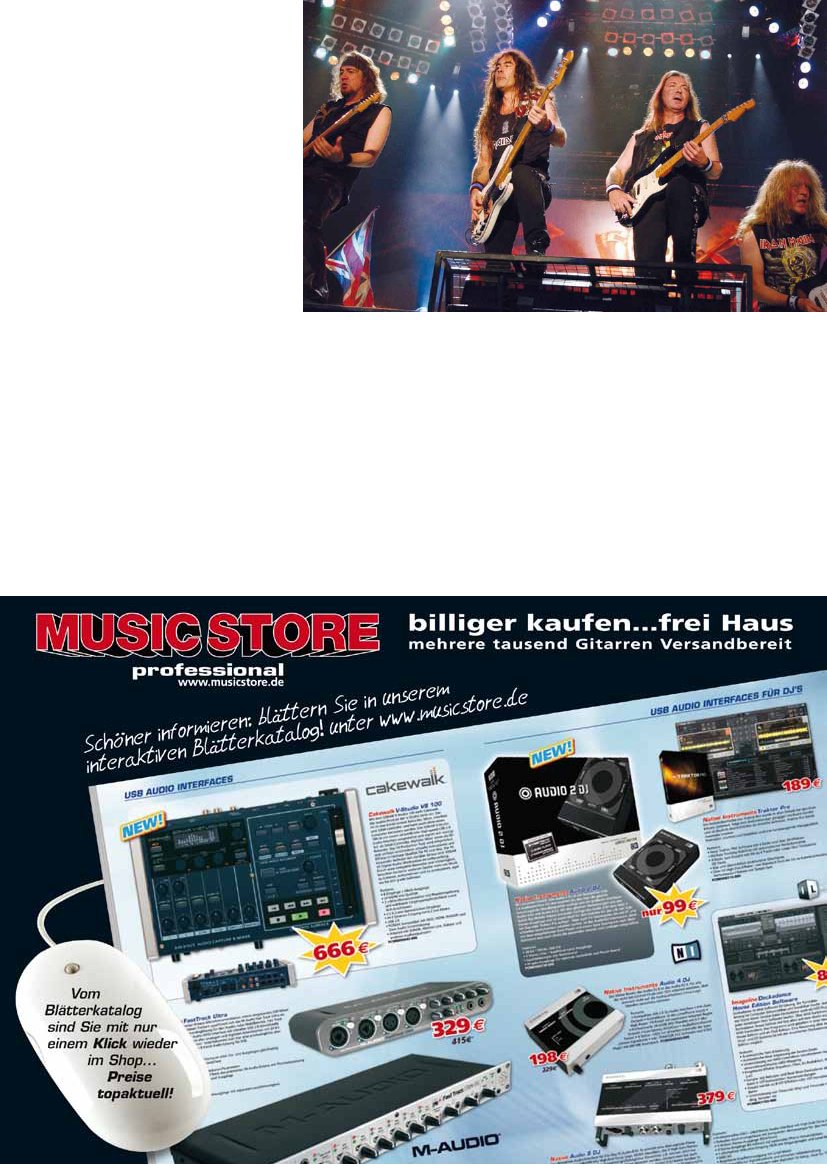 SC: Then there are the folk bonds ...
That's right, there are not just a few
ge at the start. Around the beginning of "The Talisman"
- although the song takes almost seven minutes
current version of "The Trooper" transformed.
Say: He rocks. And that's awesome.
SC: It's been four years between the last one
and the new work - the longest time you
ever needed for a sound carrier.
That has to do with all the things
do that we did in between: The
long tours, the live album "Flight 666" and
all of that. That took a lot of time and effort, but
nothing changed in the way we work.
SC: May I ask how you keep fit?
After all, you just turned 52 - live
do you still act like you were 20?
Oh yeah! (laughs) I'm always on the move
I still put on a great stage show
and still hit all the notes. But to be honest
to be lich: that can be very painful. in the
Seriously ... that's why Steve and I have one now
Physiotherapist who loosens everything before the show
picks up and adjusts. Which is really very enjoyable
is. And it works - especially in terms of
Three guitarists - and of course bassist Steve Harris - ensure the good sound at Iron Maiden.
the little pains. Because all the stages, on
that we play are made of concrete. Therefore cares
that running and jumping around for pain
in the back, feet and joints. But
that can be cured - if you do it right-
makes. And I'm used to looking around
to take care of my body - and not to.
Because let's be honest: the only reason to be
to take care of his body, there is
rin in order to be able to destroy it with pleasure.
SC: Like the old blues guys - until they
you home in the box someday
Exactly - until you get on the
The stage falls over and that's it. What a
hold wonderful, romantic idea. I
mean, I couldn't think of anything more beautiful or
imagine something worth striving for! And another
Reason I take care of myself is because I do
like to drink beer while I am at the same time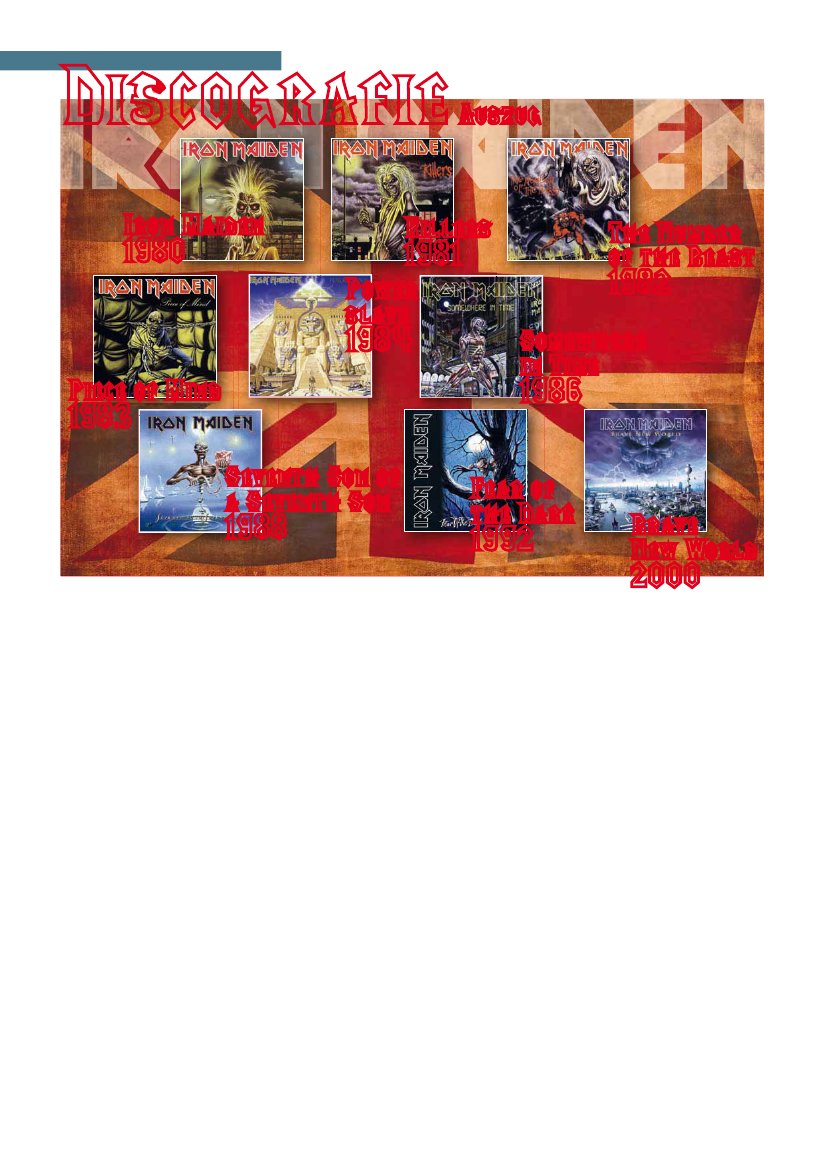 INTERVIEW: IRON MAIDEN / BRUCE DICKINSON
also likes to run around on stage
fencing and doing many other things.
So I want to have fun, and that is
also, never to let it get to the point that me
no longer alone up the steps to the stage -
can rise. That would be horrible. And therefore
I just jump on my bike and drive off.
Close your eyes and through - it's worth it!
come - which is my first port of call - lay down
I lay flat for half an hour
The back. Then I approve
a hot shower and a beer. Then I look
about 20 minutes away before I decide:
"Oh, I think I'll go out for a while
terier beer. "And when I go outside,
I can't go to bed that fast either.
If you ask me there is one
SC: Whereby your drummer Nicko (McBrain; d
Ed.) At 8 a.m. at the morning
piece sits - as if two hours of drumming
it doesn't matter at all ...
Ha! He wasn't until 3 last night
O'clock in the pub! So I was only up this morning
5:30 a.m. in bed. Simply because I don't sleep
could open. I was still so excited from that
Show that it didn't work. And I just need to
always a long time to come down again-
men. When I go to my room after the show
Voice like the engine of a car.
SC: How do you warm up for a 2 hour
Oh, not particularly. I'm just dragging myself
back briefly and scream for two or three minutes
ten. That's all (chuckles). I mean when on
the stage "Doctor Doctor", the intro is running,
I sneak into the room where the Ed-
the costume is standing and yelling two to three mi-
utes long in front of me. Then I jog
one more lap through the backstage area,
and then I go out on the stage.
SC: So you don't understand
Colleagues who are in awe before a performance
the long singing exercises pass?
Shit no I mean, I know
not at all what I'm doing for an hour
should. I think I'd rather take a nap
insert. Just out of boredom - and because I am
by then half the gig would have been
four can. If you ask me there is one
Voice like the engine of a car. I have for
set me the rule: use your mo-
tor only when you really need it. Anson
keep your hands off it. (chuckles)
When people ask me: "Which voice
do you do any exercises? ", then I can only say
a tour that I get my voice in shape
gen and should rehearse more often. I do that then
also. I sing and when I feel
that my voice is getting tired or
pulls because the muscles get tired, real
I greed accordingly. Just: "OK guys, that one
The rest of the set I'll hold back a little
ten. "But the next day I'm full again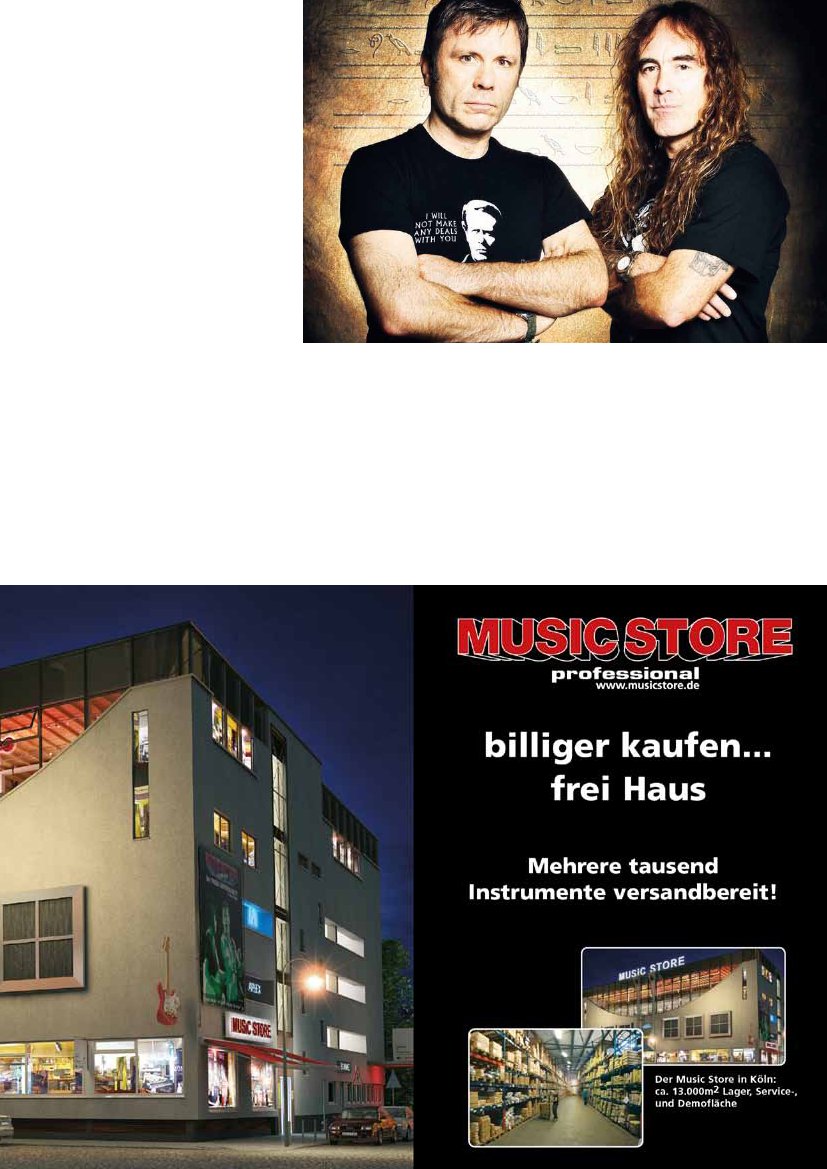 there and do a little more. In this way
Then it takes four to five days before I do that
manage the entire program. And as soon as that
is the case, I'll go one better. After this
Motto: "Now that we've done that, add
we add something. This is how you catch
really to the voice like a muscle too
work out. Just by continuing to
build. Which is important because if you are the first
Play a show and there you may have rehearsed
Until you drop dead, you never sing as hard as in
the moment you go out there and act
Lich stand in front of an audience. That's why the first
three or four shows really hard. Because there
do you develop what I call the "street
Voice "denotes - the voice with which you
touring and also being able to do so and so many
To deny shows. Because rehearsals are nice:
It's always the same place, the same time and the-
same environment. But when you're on tour
do you travel, have different framework conditions
and lots of other stuff. To that extent
do you build up your voice accordingly - so-
with it has grown to meet these requirements.
And I do. For so long that
I control the feeling of panic myself
Like to clash:
Bruce Dickinson and Steve Harris, the band leader at Iron Maiden.
Well, I am aware of it - and I know
deal with it. It is important to ignore this
to push it aside and say to yourself:
"There's a reason things don't
run as they should - you just have to figure it out-
find. "And then the monitors or
also be the mic. For example, I have im
worked with a new mic last year.
And when that didn't sound as good as I used to
I asked our technician:
"Listen, what's wrong with my singing - the
doesn't sound so great anymore? "And the answer was:
"Oh, we turned off the microphone yesterday.
exchanges. "And then I can say:" Well, it
doesn't sound so good. "-" OK, what's wrong with that-
Opus600_Anz_usp_210x142_D.indd 1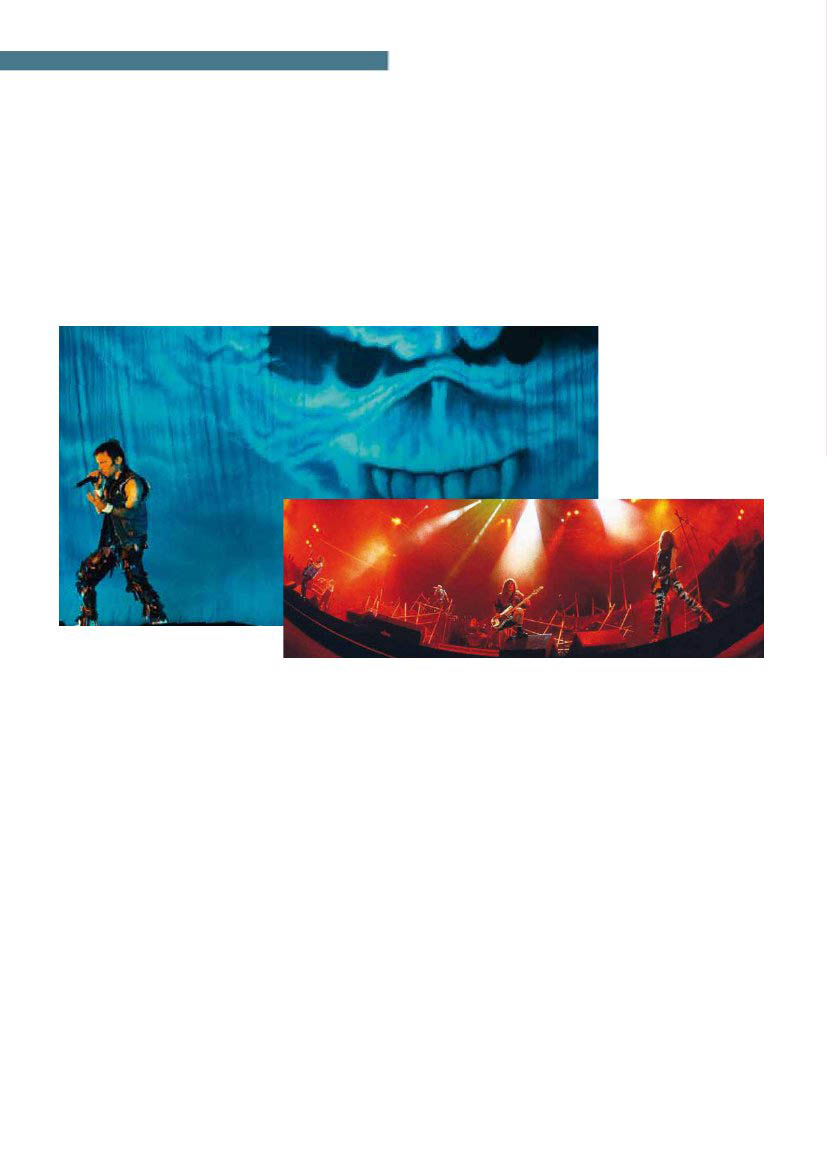 INTERVIEW: IRON MAIDEN / BRUCE DICKINSON
with? "You explain that to him, and he gets rid of it
until you think: "Hey, that sounds like me." But:
Never panic. Because that's the bad
ste what you can do - a singer who is in
Panic lapses. Then everything contracts.
SC: Another question: Why do you get the pro
blem with the embarrassing pants that you see
are obviously aware, partout not in
(laughs) Well, I've only just got one
Bought a pair of trousers that every soldier is proud of
would. I found her in an army camp
the one in Dallas, where I bought everything I did
SC: You are with your own this time too
We fly from show to show, but
only with a small charter plane.
SC: Not with the Ed Force Once, the bandit
No, we have the big plane this time
not there. Simply because we are in the USA, in Canada
and in Europe mainly with buses and
Trucks work. And it makes sense to do everything on wheels
to transport. Simply because it's cheaper
is than anything to be loaded into the Ed Force One and
to travel with it. That is only worthwhile if it is
Kid I was a huge fan of it. What do you want
you know? "And he:" What are your ten lovers
lingspanzer "? And when I list them to him, thinks
he: "That's unbelievable - six of them are
actually on the list. Would you like it, just like that
to drive a thing? "Which of course I meant:
"Absolutely!" So ​​I drove a T34.
SC: And how was it on this tour
visit NASA headquarters?
Gorgeous! Just imagine: we were even allowed to
into the flight simulator for your space shuttle - that is
Janick, Nicko and I met on a country
dung tried. And what do you think who is
Bruce's gym for the voice:
The best training for the Iron Maiden
The front man is still the one
exhausting and sweaty
Live an absolute power:
create over 30 years of band history
Iron Maiden still has no problems
to take the audience by storm.
need for this tour. Because I'm here with
absolutely nothing opened. And as our ma-
nager Rod said: "What are you going to do on stage
wear? "I replied to him:" No ah-
tion - shorts and T-shirt. "And he:" You
you're kidding. "So I explained to him that
I don't have anything else with me and maybe
still go to get me something. I am
with Tash, our cloakroom girl, in the
sen army shop and said: "This one
Shorts look OK - let's get three pairs of these
take. Oh, look at those t-shirts
that says "Psychic Ward" - that looks cool.
If we cut off the sleeves and a few
Make holes in it, it might look OK.
And there's that funny thing that looks
like the box for a gas mask - could be in it
I accommodate my microphone when I get it
times do not need. And here are some shoes. The
could fit. "I think everything is together
not bad at all. The photos I've seen
hen I was pleasantly surprised.
going from one continent to the next. The
otherwise would not be possible - at least not
at the price. Because then you'd have to separate
Book machines for tape and equipment.
And we were so clever to put that together.
SC: How is it that you are a pilot
Tank but does not have its own aircraft?
What makes you think that? I dont have any
SC: Another indication of how much crap there is