Would you hire Sarah Huckabee Sanders?
Trump questions press briefings in the White House
US President Donald Trump has blamed the media for the fact that his spokeswoman hardly holds press conferences. "The reason Sarah Sanders no longer goes to the 'podium' is because the press reports about her so outrageously and inaccurately," Trump wrote on Twitter. He told Sanders that she could save herself the trouble - the messages would still be spread. Most of the media would never report fair about him anyway - "hence the term fake news".
Sanders last asked questions from the media on December 18. On January 3rd, she invited her to the White House for a press briefing, but then only announced "a very special guest": Trump, who spoke to journalists but did not take any questions.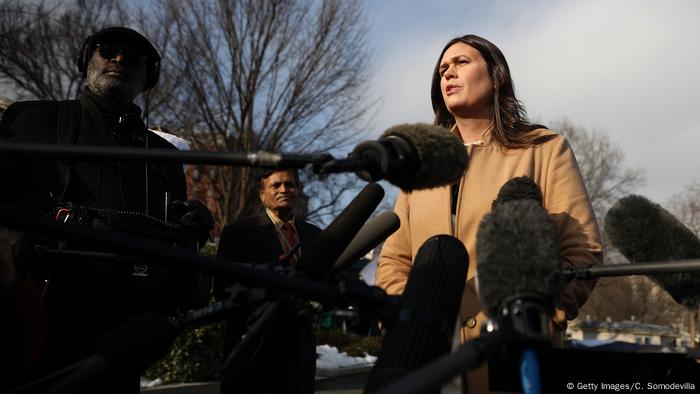 Sarah Sanders in conversation with reporters
Trump constantly accuses media that report critical of him and his politics, of spreading "fake news". He also insults these media as "enemies of the people". Again and again, the President personally and violently attacked individual journalists. Last November, he even had the accreditation of the prominent CNN reporter Jim Acosta withdrawn for a short time after a verbal dispute.
"Withdrawal from Transparency and Accountability"
The White House Correspondents' Association (WHCA) criticized Trump's remarks. WHCA President Oliver Knox spoke of a "withdrawal from transparency and accountability," which set a terrible precedent.
White House correspondents regularly complain that Trump spokeswoman Sanders rarely holds press conferences. Several briefings per week were common among previous presidents, and weeks now go by without a briefing. However, Trump faces the media more often, albeit in a rather unusual manner: For example on the sidelines of cabinet meetings or before boarding the presidential helicopter. Then he often takes questions. On these occasions, reporters have less time and opportunity to ask questions and follow up.
stu / qu (dpa, afp)