Tuberculosis: WHO warns of resistance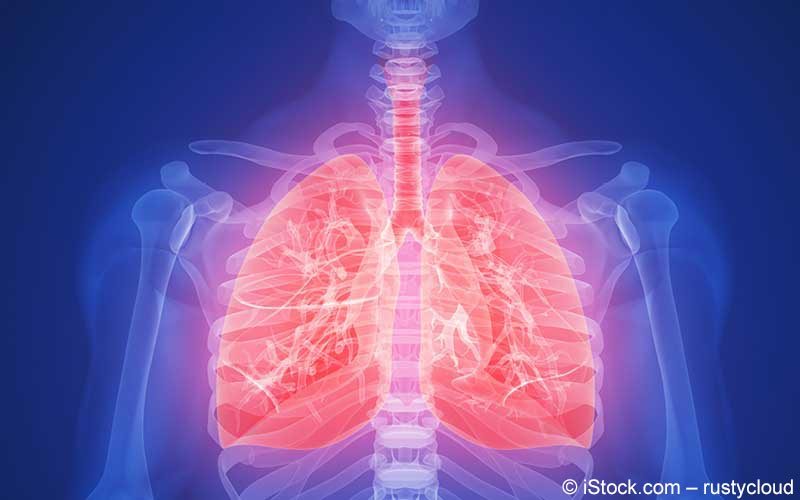 An increase in tuberculosis cases is registered worldwide. Diseases with resistant pathogens are of particular concern. In the case of so-called multi-resistant tuberculosis (MDR-TB), an average increase of 20 percent per year has been recorded over the past five years. According to the WHO, the chance of successful therapy internationally is around 50 percent, and the cure rates are even lower. Scientists from the Tuberculosis Network European Trialsgroup (TBNET) have been dealing with the sometimes very low treatment success for MDR-TB for years. In a current study, the care of MDR-TB patients in 16 European countries was assessed for the first time. The researchers published their results in the American Journal of Respiratory and Critical Care Medicine (2018; DOI: 10.1164 / rccm.201710-2141OC).
Tuberculosis - more than 4,500 deaths a day
Even today, tuberculosis is a dangerous infectious disease. In 2016, more than 10 million people fell ill, and nearly 1 million of them died. The pathogen is Mycobacterium tuberculosis, identified by Robert Koch. Its existence has been known for 136 years. Since Koch announced his discovery on March 24, 1882, this date was chosen as World Tuberculosis Day. Effective antituberculotics have been available since the middle of the 20th century - yet more than 4,500 patients die every day worldwide, especially those with MDR-TB.

The prospective cohort study compared the treatment courses of 380 patients with MDR-TB at 23 clinics in 16 European countries. The observation window extended from the time of diagnosis to one year after the end of therapy.
Different treatments in Eastern and Western Europe
In a European comparison, Eastern European countries such as Belarus and Moldova are high incidence areas for MDR-TB. Prompt therapy would be indicated here in particular. According to the study, however, patients in these countries often have to wait up to two months longer for treatment than their Western European neighbors (median 111 vs. 28 days). The therapeutic approaches also differ. If the result of the antibiotic resistance test is awaited in Western Europe and the treatment is adjusted accordingly, Eastern European patients often still receive a fixed standard regimen (9.9 vs. 83.2 percent). It is known that some of the earlier standard therapeutic agents are no longer effective today. For example, only 20.1 percent of patients who received pyrazinamide responded to the drug. In addition, new, additional antibiotic resistance occurs around four times more often with standardized treatment than with individually adapted drug administration (23 vs. 5.8 percent).
Therapy successes better than expected
The scientists found that the overall chances of a cure for MDR-TB were better than expected. Nevertheless, there were differences between Eastern and Western Europe. The therapy had to be classified as unsatisfactory in 24.1 percent of Eastern European patients. In Western Europe, therapy failed in only 14.6 percent of MDR-TB patients. In addition, the risk of dying from multidrug-resistant tuberculosis was around five times as high in the Eastern European high-incidence countries as in Western Europe (9.4 vs. 1.9 percent). "The differences in the care of tuberculosis patients within Europe are serious. The most affected countries have the fewest resources for prevention, diagnosis and therapy ", summarizes Prof. Dr. Christoph Lange, tuberculosis specialist at the Borstel Research Center. Lange continues: "There is a specific need for action here to help our European neighbors."
Individualized therapy increases the chances of recovery
MDR-TB can be treated well with modern antituberculotics and resource-optimized therapy regimens. This is shown by the therapeutic successes in Western European countries. An extension of these treatment strategies to areas of high incidence would be desirable. Then the chances of an efficient treatment of MDR-TB should also increase there. Researchers from the tuberculosis research department at the German Center for Infection Research eV recently showed how well an individually tailored therapy works. They found that the chances of recovery for patients with MDR-TB and individualized therapy are currently no longer compared to the chances of recovery for patients with Differentiate between non-resistant tuberculosis bacteria (2018; DOI: 10.1183 / 13993003.02122-2017). Nevertheless, the Robert Koch Institute points out that tuberculosis remains a challenge for Germany as well. It is important that doctors remain vigilant even today and always think of tuberculosis when symptoms such as prolonged coughs, night sweats, fever and unwanted weight loss occur.
Research Center Borstel - Leibniz Lung Center
German Center for Infection Research (DZIF) - Research Area Tuberculosis
American Journal of Respiratory and Critical Care Medicine, March 6, 2018, Clinical management of multidrug-resistant tuberculosis in 16 European countries
European Respiratory Journal, February 21, 2018, Relapse-free cure from multidrug-resistant tuberculosis in Germany