Crochet and knitting forum
Wool and knitting or crocheting: It's really cool and keeps you nice and warm!
Here in Knitting forum You will find knitting tips and friendly, knowledgeable help if a stitch gets stuck.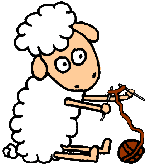 Flauschi, the mascot from the knitting forum, welcomes you.
Do you like to knit or crochet? Are you always looking for tips and ideas? You are right here! This is the meeting point for wool singles and families, beginners and experts.
What's up here?
Exchange ideas with other knitters about knitting trends and knitting yarns, about crochet patterns and cut details.
Do you use special programs for your knitting design? Whether DesignaKnit or just the pocket calculator, here you will get great tips on how to make it easier.
Are you looking for information on special crochet or knitting techniques? Whether Fair Isle or Aran, Guernsey knitting or delicate lace patterns, ask in the knitting forum, they will help you.
You have a knitting machine, but you haven't done much with it yet, and now you finally want to use it properly? Come to the knitting forum, regardless of whether it is a simple knitting machine or a computer-controlled model, whether it is Bond, Brother, Empisal or Silver Reed. Here are the best knitting tips.
Click yourself in: ins Knitting forum.
And here it goes my blog.
imprint