What does fiber do to your body?
Impeccable quality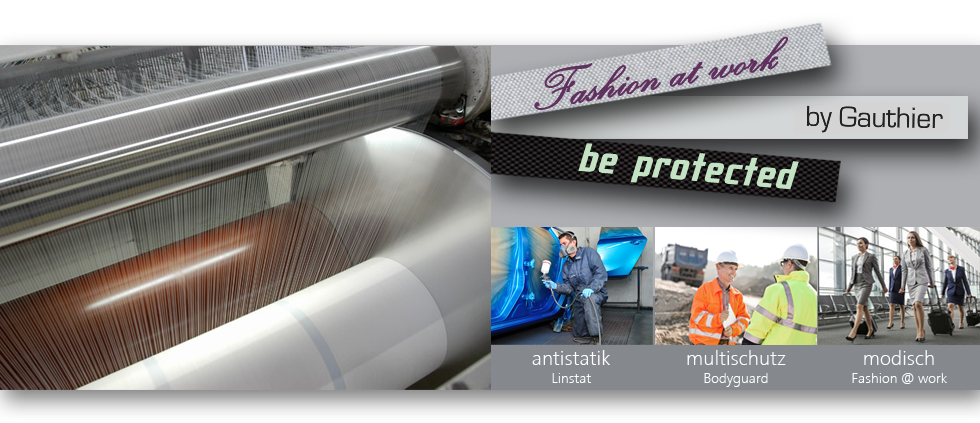 In order to guarantee exemplary product quality, Tissages Gauthier maintains a partnership with the most powerful European yarn suppliers and carries out regular controls during the manufacturing process.

Infinity® is a completely new fiber, the construction of which is based on the complex «Double Fimanent Population Technology». It is a unique combination of a classic filament for core resistance, which is cleverly combined with a techno-filament outer sheath for comfort. This technique guarantees the fabric its extraordinary properties.
Infinity® offers a natural, supple and fluid feel, comparable to natural fibers and is very comfortable to wear on the skin.
Infinity® allows your body a perfect breathability, even at the highest temperatures, as it is permeable for air, water vapor and sweat that can escape the body.
Infinity® ensures permanent "moisture control" and body ventilation thanks to the transfer and evaporation of sweat. This property avoids the lack of comfort of a garment that is always damp on the back or "sticky".
Infinity® asks for a matt surface and thus enables the production of high-performance and solid fabrics. These keep their colors, original appearance and comfort features intact for a very long time.
Infinity® is the best solution for low-maintenance and inexpensive entertainment in industrial laundries.
Infinity® is a registered trademark of Manmade.

The new Second Life yarn is obtained by recycling plastics from mineral water bottles. It is used for all types of clothing - from underwear and medical workwear to high-quality haute couture creations.

Natura® is a completely new techno fiber, developed to better meet the needs of wearers. Natura® also offers extreme comfort, perfect color fastness for a better corporate identity and the option of being able to wash often without shrinkage or discoloration.
Natura® has been precisely tailored to combine the best of every world: a modern look, an infinite softness on the skin, a soft fall, relaxing and attractive colors, extraordinary longevity and the absence of shrinkage.
Natura® will convince even the most demanding wearers who will get a garment like "chosen by yourself".
Natura® can be described as a real environmentally friendly "synthetic cotton".
Natura® is very easy to handle in industrial laundry. Use a standard polyester / cotton wash process with a very short tunnel pass. Its durability makes Natura® the perfect product.
Natura® is the source of multiple savings by reducing maintenance and replacement costs.
Natura® is a registered trademark of Manmade.

Linstat® was developed to meet the high demand for anti-static fabrics where two factors are paramount: comfort and safety.
The fabrics of earlier times turned the garments into real "knight armor" that looked like a sauna. The companies Performance and Gauthier Tissus therefore opted for the synthetic fiber Pontella®, which thanks to its highly breathable fabric (micro-terrycloth) ensured comfort.
Because of the safety we only use the new development Negastat®. This yarn always offers optimal antistatic protection for both earthed and ungrounded applications. This enables largely free movement in the workplace without restriction.
The success of Linstat® Negastat® came quickly. Numerous electronics, optics and car paint shops have since opted for this combination.
Linstat® Negastat® offers exceptional wearing properties, anti-static protection and no pilling or particle formation. This has also been proven in tests. This is why Linstat® Negastat® has been a European leader in the field of antistatic fabrics for many years.
It complies with the requirements of the EN 1149-3 standard and is ideally suited for car paint shops, the electronics industry and other sectors where particle emissions are not allowed to occur.
Linstat® is a registered trademark of Gauthier SAS; Negastat® is a registered trademark of the DuPont company.

ProtexTM is a revolutionary fiber that was developed on the basis of the Modacrylic molecule by the Japanese Kaneka.
ProtexTM offers inherent flame protection, which means it is a permanent non-flammable fiber in the bulk. You will not get any FR equipment that inevitably degrades with every wash.
ProtexTM is even more powerful when mixed with cotton. It then retains all the advantages and properties of a natural fiber, the appearance, the flowability, the flexibility.
ProtexTM alone or in a mixture with cotton has a very high L.O.I. (Limited Oxygen Index). This means better protection against fire.
ProtexTM is a registered trademark of Kaneka Waxman.


Trevira is a flame-retardant fiber that complies with the important international safety standards for flame-retardant
mending textiles met.
Trevira CS is a registered trademark of Trevira.